According to the statement from the White House, retired Lieutenant general Keith Kellog was appointed instead of Flynn.
"President Donald J. Trump has named Lt. General Joseph Keith Kellogg, Jr. (Ret) as Acting National Security Advisor following the resignation of Lt. General Michael Flynn (Ret)," the statement said.
In his resignation letter, Flynn said that he had not provided the White House with full information about his contacts with Russian Ambassador to the United States Sergey Kislyak.
"Unfortunately, because of the fast pace of events, I inadvertently briefed the Vice President Elect [Mike Pence] and others with incomplete information regarding my phone calls with the Russian Ambassador. I have sincerely apologized to the President and the Vice President, and they have accepted my apology," Flynn said in the resignation letter revealed by the White House's press service.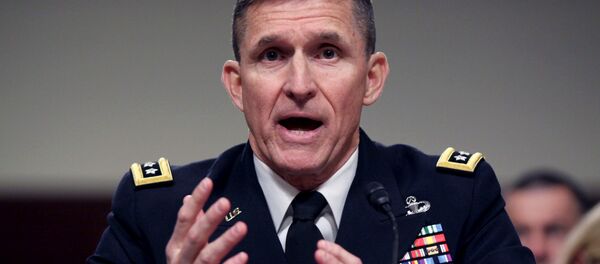 1 February 2017, 18:14 GMT
Earlier in the day, Trump was said to be
looking into the situation
involving National Security Advisor Mike Flynn regarding about reports of his pre-inaugural phone calls with Russian Ambassador to the United States Sergey Kislyak.
Flynn's phone communications with Kislyak prior to Trump's inauguration on January 20 have raised questions about whether the advisor broke a law forbidding private US citizens from engaging with foreign nations about diplomatic disputes.
US media reported Flynn had discussed the issue of anti-Russian sanctions with Kislyak before Trump was officially sworn in as US president.