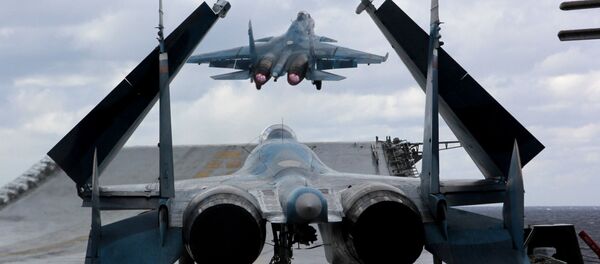 10 February 2017, 07:29 GMT
In an interview with Sputnik, Russian military commentator Viktor Baranets said that the very fact that the Russian aircraft carrier
Admiral Kuznetsov
was followed by more than 50 NATO ships indicates the alliance's drive to pursue its own agenda with respect to the Russian warship.
The interview came after commander of the cruiser Sergey Artamonov said that Russia's aircraft carrier Admiral Kuznetsov, which has recently returned from Syria to the country's northern port city of Severomorsk, was followed by more than 50 NATO ships on its way to Syria and back home.
"During the trip, we detected the presence of 50-60 NATO ships close to us. In some places, we were followed by 10-11 [NATO ships] simultaneously," Artamonov said in an interview with the Russian newspaper Argumenty i Fakty.
Commenting on the foreign fleets' increased interest in the  Admiral Kuznetsov, Viktor Baranets said that NATO ships were conducting a "serious military mission" while "escorting" the Russian aircraft carrier.
"It was important for them to see what a Russian warship looks like, and to know all about its performance characteristics, including the speed, the warplanes' takeoff and the engines' operations, which is of great importance to [NATO] submarines," he said.
"In order to see that the Admiral Kuznetsov has left the Mediterranean Sea, one can use satellite surveillance rather than send warships to the area," he said.
"For them, escorting the Admiral Kuznetsov is not just an easy walk; it is a very serious military mission. They detect signals from the Russian aircraft carrier, track her maneuvering and so on," he said.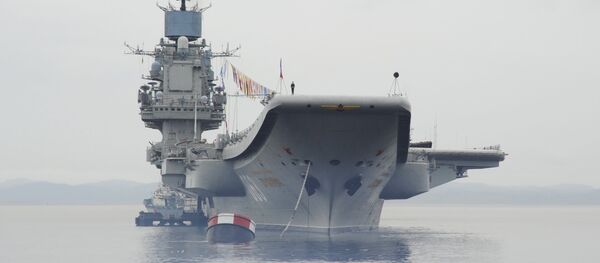 9 February 2017, 13:57 GMT
Russia's naval group, consisting of the Admiral Kuznetsov, the Pyotr Veliky battle cruiser, the Severomorsk and the Admiral Kulakov anti-submarine destroyer, and support vessels, left for Syria in October 2016 to participate in counterterrorism operations.
On January 6, Russian President Vladimir Putin ordered the group to return to Russia's Northern Fleet base after a new Syrian ceasefire was announced on December 29. The group returned to the base on February 8.
Never miss a story again — sign up to our Telegram channel and we'll keep you up to speed!