MOSCOW (Sputnik) — Head of the UK government Theresa May on Tuesday officially rejected the petition against US President Donald Trump's official visit to the United Kingdom which has gathered 1.85 million signatures so far.
"HM [Her Majesty's] Government believes the President of the United States should be extended the full courtesy of a State Visit. We look forward to welcoming President Trump once dates and arrangements are finalised," the government's official response on the UK Parliamentary petitions website read.
According to the response, the government "recognises the strong views expressed by the many signatories of this petition, but does not support this petition".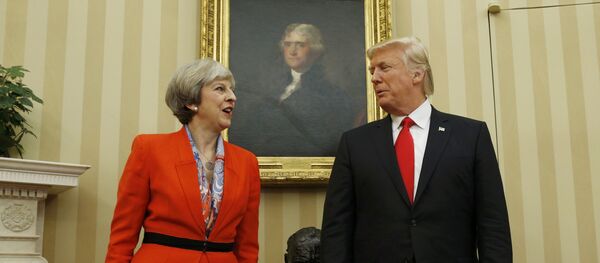 31 January 2017, 16:19 GMT
On February 20, the UK parliament will also hold a debate on canceling Trump's visit.
In January, UK Prime Minister Theresa May held a meeting with Trump, during which she invited the US president on behalf of Her Majesty the Queen to visit the United Kingdom later this year. Later, an online petition was published at the website of the UK Parliament, demanding Trump to be barred from making a state visit to Britain amid his January 27 executive order banning Syrian refugees from entering the United States and implementing a three-month block on any entrants from Syria, Iran, Iraq, Yemen, Somalia, Sudan and Libya.