BENGALURU (Sputnik) — India's Hindustan Aeronautics Limited is currently producing Su-30MKI super-maneuverable fighter jets in India under the license from Russian Sukhoi aircraft manufacturer.
"If the Indian side expresses willingness to increase the licensed production, then the Russian side is ready to supply means of production to build as many jets as the Indian partners need," Vladimir Drozhzhov, the FSMTC deputy director said.
Currently, the Indian Air Force has a fleet of over 200 Su-30MKI fighter jets that were built in India under the license, according to Sukhoi's parent company.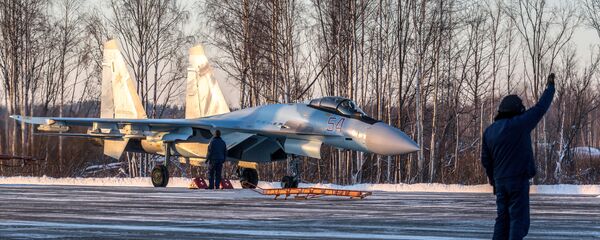 15 February 2017, 15:02 GMT
Earlier on Wednesday, CEO of Russian United Engine Corporation Alexander Artyukhov said that the Indian version of Su-30MKI after modernization will get the AL-41F turbofan engines designed for 4++ generation aircraft currently being installed on the Su-35 fighters.
Moscow and New Delhi have enjoyed mutually beneficial relations, especially in the field of defense and military cooperation, since the Soviet times. Russian military export to India amounts to more than $4,5 billion annually.