It seems that Washington still has a long way to go before it makes a step toward Moscow, Radio Sputnik contributor Ilya Kharlamov noted in his latest op-ed.
"Reports come one after another, raising doubts about the attitude of the new team in Washington toward real improvement in relations with Moscow," Kharlamov wrote.
On Tuesday the Pentagon accused Russia of "unsafe" and "unprofessional' actions in the Black Sea near the USS Porter (DDG 78) destroyer.
"Several incidents by multiple Russian aircraft in the Black Sea near the destroyer USS Porter (DDG 78) on February 10 were assessed as unsafe and unprofessional by the ship's commanding officer. Such incidents are concerning because they could result in accident or miscalculation," US Defense Department spokesperson Michelle Baldanza told Sputnik.
"The Russian aircraft did not have their transponders on," she added.
The Russian Defense Ministry dismissed the allegations.
"There were no incidents related to a flyby of Russian military aircraft near the USS Porter destroyer in the Black Sea on February 10," Russian Ministry spokesman Maj. Gen. Igor Konashenkov said in a statement, adding that all the flights of Russia's aircraft over the Black Sea had been carried out in line with international regulations and safety requirements.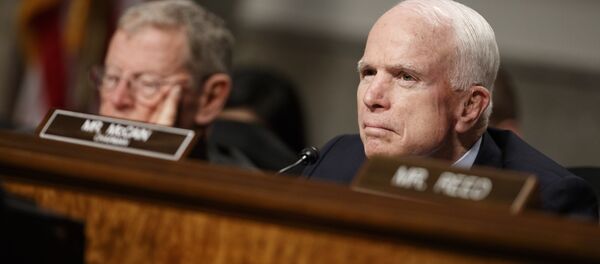 15 February 2017, 02:27 GMT
Kharlamov pointed out that simultaneously US mainstream media reported of a "Russian spy ship" which was allegedly spotted "patrolling off the coast of Delaware."
"What really matters is in what context one put such messages," Kharlamov said, adding that it appears that this context is currently being shaped by US hawks, such as Senator John McCain.
Indeed, on the very same day John McCain released an official statement claiming that Russia has violated the 1987 Intermediate-Range Nuclear Forces (INF) Treaty by allegedly deploying nuclear-tipped ground-launched cruise missiles in Europe.
He called upon the Trump administration to take "immediate action."
"Congress has made clear in the last two defense authorization bills that Russia's treaty violation requires a meaningful response. In light of the most recent developments, it is time for the new administration to take immediate action to enhance our deterrent posture in Europe and protect our allies," McCain's statement reads.
© AP Photo / J. Scott Applewhite
Senate Armed Services Committee Chairman John McCain, R-Ariz., leaves a closed-door GOP policy luncheon at the Capitol in Washington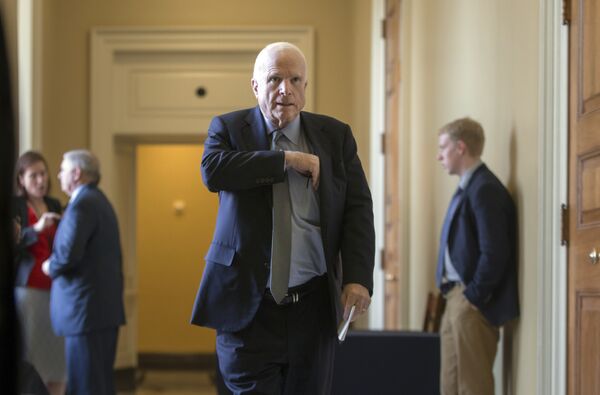 Senate Armed Services Committee Chairman John McCain, R-Ariz., leaves a closed-door GOP policy luncheon at the Capitol in Washington
© AP Photo / J. Scott Applewhite
Commenting on the issue, Kharlamov noted that the US Senator somehow has forgotten that Washington recently supplied Lockheed Martin JASSM long range standoff precision strike missiles to Poland.
Furthermore, the journalist suggested that McCain is apparently unaware of the fact that in 2002 George W. Bush unilaterally withdrew from the 1972 Anti-Ballistic Missile Treaty opening the door to a new arms race and undermining global security.
According to Kharlamov, General Michael Flynn's resignation as Donald Trump's national security advisor falls within the recent trend.
"The official version is that [Flynn] did not report the details of his conversation [with Russian Ambassador Sergei Kislyak] to his superiors. But the media found out that there was a campaign [launched] by Barack Obama's supporters against Flynn," the journalist noted.
But that is not all.
White House spokesman Sean Spicer said Tuesday that the Trump administration expects Russia to "return Crimea" to Ukraine.
"President Trump has made it very clear that he expects the Russian government to deescalate violence in Ukraine and return Crimea," Spicer said, adding that "at the same time, he fully expects to and wants to get along with Russia."
Crimea was TAKEN by Russia during the Obama Administration. Was Obama too soft on Russia?

— Donald J. Trump (@realDonaldTrump) 15 февраля 2017 г.
​Crimea rejoined Russia in 2014 following a referendum that clearly indicated that 97 percent of the region's population embraced the reunification.
In response to Washington's statement Kremlin spokesman Dmitry Peskov highlighted that this issue will not be discussed.
"This topic will not be discussed, because it cannot be discussed. Russia does not discuss issues related to its territory with foreign partners," Peskov told reporters.

14 February 2017, 18:51 GMT
Commenting on the matter Wednesday the Russian lower house international affairs committee chairman, Leonid Slutsky, told reporters that Russia's "inflated expectations" with the administration of US President Donald Trump
are offset but not entirely rolled back
.
Kharlamov noted in his op-ed that although Trump hinted at the possibility of reconsidering the US stance toward Crimea during his election campaign, he is being held hostage by US elites and mainstream media which describe him as a "pro-Russian" politician.
"Trump cannot redraw the entire system or change the [US] elite," the journalist pointed out.
The question whether Trump will make efforts to overcome the establishment's traps and restore US-Russian relations remains open.
Speaking to Sputnik on Tuesday, political analyst and Israeli publicist Avigdor Eskin emphasized that Trump still can win if he continues to deliver on his election promises.
"His only chance to prevail is by forcing his way through in order to win as soon as possible massive support at home and active assistance from his real allies around the world. He must stick to his promises and show uncompetitive faithfulness to his team," Eskin stressed.