On Monday, Ukrainian Energy Minister Ihor Nasalyk warned that reserves of coal for Ukraine's power plants will be depleted in between 14-45 days, and proposed the introduction of a state of emergency in the country's energy sector. According to the minister, the country has about 927,000 metric tons of anthracite coal in reserve, with the energy sector consuming up to 40,000 tons a day. 
The same day, speaking to Ukraine's ICTV television, Nasalyk stressed that in spite of the imminent energy crisis, Kiev would not be importing emergency electricity supplies from the Russian grid. "I am sure that electricity imports from Russia should not even be considered, because we will not have them," the minister said. "We will do everything possible to refuse this option," he added. Electricity supplies to Ukraine from the Russian grid stopped on January 1, 2016.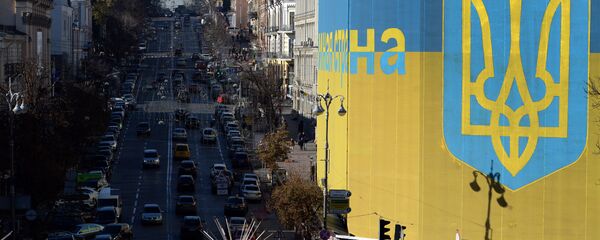 13 February 2017, 21:35 GMT
On Monday, the Russian Energy Ministry
confirmed
that Kiev had not sent any requests for emergency electricity supplies in connection with its coal shortage. However, there have been precedents of limited emergency cooperation in the past. Last summer, Russia sent 600 megawatts of electricity to Kiev due to a similar shortage in the Ukrainian power system.
Vsevolod Kovalchuk, the head of Ukrainian state power grid operator Ukrenergo, has warned that if a state of emergency is introduced, the country could face large-scale rolling blackouts. "This will affect the entire territory of Ukraine, except from some separate 'energy islands' who work without a connection to the main power grid," Kovalchuk explained. 
This week, the Petro Poroshenko Bloc parliamentary faction asked the president to convene an urgent session of the National Security Council to consider unblocking railways from the breakaway regions of Donetsk and Lugansk, stressing that "the economic blockade undermines the military efficiency of our state and has disastrous consequences for the economy and the social sphere."
The breakaway Donetsk and Lugansk People's Republics have some of the richest coal-mining areas in Ukraine, particularly the anthracite coal necessary to power many of Ukraine's thermal power plants.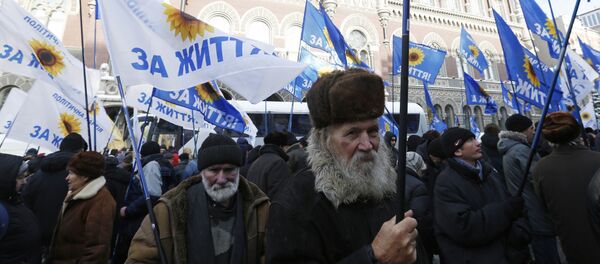 30 January 2017, 12:36 GMT
Nationalist 'activists' began a blockade of rail lines into and out of the breakaway territories in January, led by ultra-right wing lawmaker Volodymyr Parasiuk. Parasiuk has claimed that the government's warnings of an impending crisis are an attempt to intimidate Ukrainians, and promised that he and his men would seize Ukrainian power plants if they stopped their work due to a lack of coal.
Earlier, Energy Minister Nasalyk explained that Kiev has two options, absent resumption of coal deliveries from the breakaway territories. "We cannot take coal from South Africa because it is sold out until April. There are only two options left: Russian [coal] import or Russian gas for gas and oil [plants]," he said.
At the same time, experts say that Kiev can hypothetically purchase coal from Australia or New Zealand. However, they added that these supplies would take at least six weeks to deliver, and would overload Ukrainian sea ports, which don't have the necessary capacity to offload the coal and deliver it to power plants in time.
Speaking to RIA Novosti Ukraina, Dmitri Marunich, the co-chair of the Kiev-based Energy Strategies Fund, warned that if Russia does not provide Kiev with the necessary electricity supplies, "Ukraine will inevitably face large-scale rolling outages, designed to prevent a [total] blackout."
Marunich explained that Russia, which has a surplus of electricity supplies, is at an advantage, and can sell its supplies to Ukraine at a good price. However, if Ukraine does not reach agreement with Russia, this would have negative consequences for the Ukrainian economy. 
"Previous periods of rolling blackouts have had an estimated impact on the GDP of 1.5% in the medium term. This could ruin any prospects of stabilization at the rock bottom position the Ukrainian economy is now facing," the expert noted.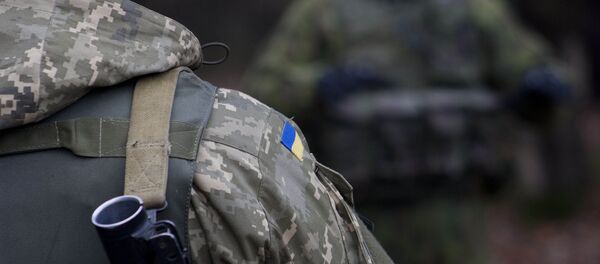 4 February 2017, 23:05 GMT
If the country's electrical grid does face outages, households will be cut off first, with critical infrastructure – water utilities, factories which could face explosions in case of outages, being cut off last, Marunich said. 
"The Odessa Port Plant is one of the latter," he added, "since if it is cut off from electricity supplies, it will emit ammonia into the air, which will form a cloud that will move to the nearby town of Yuzhnoe. There, in the space of half an hour, 5,000-10,000 people who don't manage to run away in time will be killed."
Risks also exist for Ukraine's nuclear power plants, the analyst warned. "Nuclear plants cannot work without an external power source, so there is a possibility that their nuclear units will have to be temporarily stopped. The threat of power cuts can cause serious accidents, so they will need time to disconnect them. But I hope that we do not get to that point."
As for the danger of the lack of electricity also leading to lack of heating, Marunich emphasized that "the main thing is to keep [residential housing] warm until the end of the winter. A deficit of electricity can affect the pumping of heating into apartment blocks, but so long as the power plants have gas, and the gas continues to flow through the pipelines, the risks will remain low," the expert concluded.