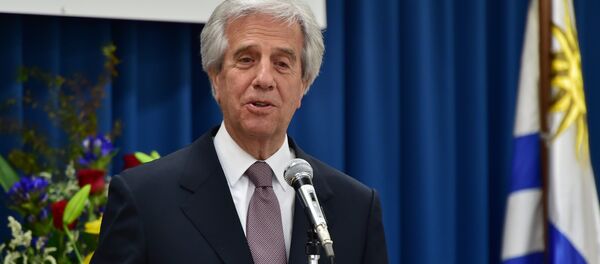 10 February 2017, 06:43 GMT
During a meeting with members of the Uruguayan community in Moscow, President Vasquez told Sputnik that Uruguay currently enjoys excellent relations with Russia despite certain problems in the economic sphere.
"The trade relations however have deteriorated as of late. For example, the amount of Uruguayan meat sold to Russia has decreased. According to our ambassador to Moscow, the volume of trade between our nations has decreased from $300 million to only $97 million. Uruguay also now purchases fewer Russian goods than before. This is definitely one of the issues that I will discuss with President Putin," Vasquez said.
He also said that a meeting between Uruguayan businessmen from his delegation and their Russian counterparts is expected to be held soon, where Uruguayan Minister of Industry Carolina Cosse will hold a presentation on investment prospects in Uruguay.
"We have the most positive expectations. And I'd like to remind you that to everything there is a season. In some areas we failed to achieve anything and therefore cannot harvest the fruits of our labors, while in others we now reap what we have sown. That is exactly what is happening now between us and Russia with which we established (good) relations," the president added.
Russia and Uruguay established diplomatic relations in 1857. The two countries cooperate in a number of spheres, including in the agricultural and chemical sectors.