WASHINGTON (Sputnik) — Various parties in Canada strongly support continuing Ottawa's assistance to Ukraine's military, Canadian Minister of National Defense Press Secretary Jordan Owens told Sputnik.
"There is strong, multi-party support in Canada for efforts to continue to help develop and deliver military training and capacity building programs for the Ukrainian armed forces," Owens said.
The mandate of the current Canadian training mission to Ukraine will expire in March.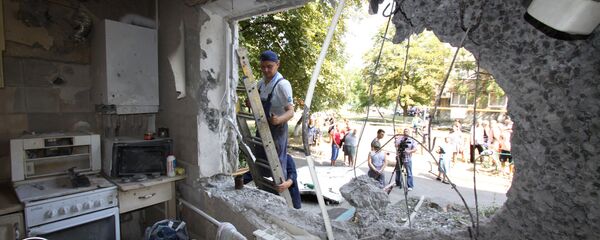 16 February 2017, 20:24 GMT
The Canadian military have trained more than 2600 Ukrainian soldiers since the start of the training mission in September 2015.
The breakout of hostilities in eastern Ukraine began in April 2014 as a local counter-reaction to the West-sponsored Maidan coup in Kiev that had toppled legitimate President Viktor Yanukovych in February. Residents of the Donetsk and Lugansk regions held independence referendums and proclaimed the People's Republics of Donetsk and Lugansk. Kiev has since been conducting a military operation, encountering stiff local resistance.
In February 2015, Kiev forces and Donbass independence supporters signed a peace agreement in the Belarusian capital of Minsk. The deal stipulates a full ceasefire, weapons withdrawal from the line of contact in Donbass, as well as constitutional reforms that would give a special status to the Donetsk and Lugansk People's Republics. Since then, the ceasefire regime has been regularly violated, with both sides accusing each other of multiple breaches, undermining the terms of the accord.