ASTANA (Sputnik) – Kazakhstan hopes that progress will be achieved in the Astana talks on Syria on strengthening ceasefire and intensifying political processes, Kazakh Deputy Foreign Minister Akylbek Kamaldinov said Thursday.
"Kazakhstan expresses its sincere hope that today's meeting will be productive. We hope to make progress around implementing the ceasefire regime while establishing measures to stabilize the situation in particular regions and agree on practical steps ahead of the upcoming intra-Syrian talks in Geneva," Kamaldinov told reporters.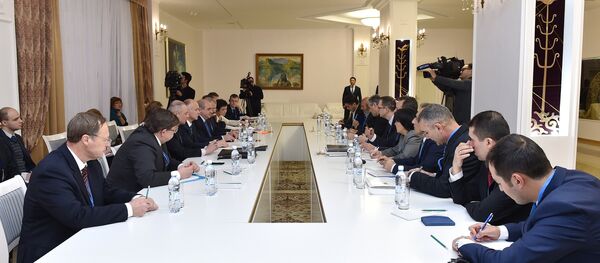 16 February 2017, 11:57 GMT
The second round of Astana talks was expected to take place on February 15-16, however on Tuesday Syria's state television said that the beginning of the negotiations had been postponed until Thursday, because the delegations of both the Syrian armed opposition and Turkey had not arrived in Astana yet.