WASHINGTON (Sputnik) — In January, Iraqi and US-led coalition forces liberated the eastern part of the city that was captured by Daesh in June 2014.
"The Iraq security forces have nearly 5,000 more personal to assist as hold forces in Eastern Mosul and eventually in the fight against ISIS [Daesh] in western Mosul following recent graduation ceremonies at Taji, Besmaya, Erbil, and Al Asad Air Base," the release said.
"At Taji and Besmaya, the release added, nearly 2,000 Ninewah policemen "graduated and are poised to assist in the fight against ISIS [Daesh] in Mosul."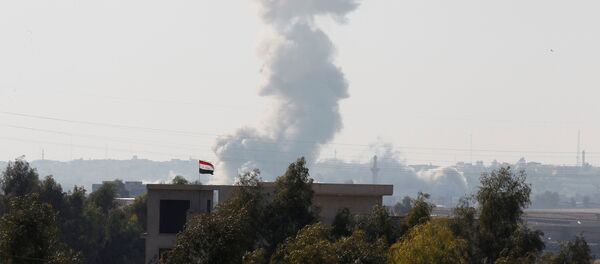 15 February 2017, 23:09 GMT
Moreover, 300 Iraqi soldiers graduated for patrol and clearing techniques at the Al Asad Air Base, a program led by the combined efforts of Danish, British, Latvian, Estonian and US forces.
Last October, Iraqi Prime Minister Haider Abadi announced the start of the military operation to retake Mosul from Daesh militants. Iraqi troops and their allies, including local Sunni militias and the US-led coalition against Daesh, are involved in the offensive.
The city's western part still remains under control of the terrorist group.