The BBC2 documentary brings back memories of last year's brawls between British and Russian fans during a UEFA Euro game in France, and warns about a "festival of violence" allegedly awaiting British fans during the 2018 World Cup in Russia.
During his work on "Russia's Hooligan Army" documentary, its maker, Alex Stockley von Statzer, met with representatives of Spartak Gladiators and Oryol Butchers firms and filmed an organized fight for wannabe recruits in the woods. 
The crew visited Moscow, Oryol, Rostov-on-Don and Tula.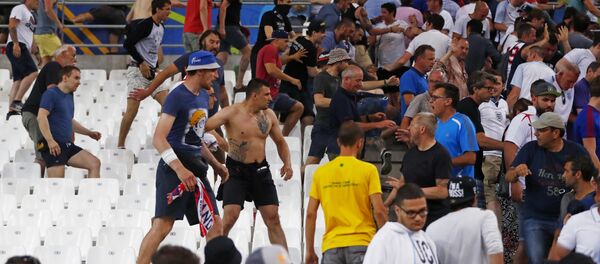 17 February 2017, 10:15 GMT
"Russian hooligans injured over 100 English supporters, beating two into a coma. It was some of the worst football violence seen at an international tournament and raised serious concerns ahead of millions of fans travelling to Russia for the 2018 World Cup," the BBC ominously announced ahead of the film's presentation.
The film's authors describe Russian football fans as teetotal, physically fit and trained in mixed martial arts.
In an exclusive interview with RT, former leader of the Spartak Moscow supporters group "Spartak Gladiators," Vasiliy Stepanov, who appeared in the BBC 2 documentary, revealed what exactly he had told the British journalists.
He said that Alex Stockley von Statzer had contacted him via one of his friends, who promised a fair and open-hearted interview.
"We met at a local pub. They asked me to comment on last year's events in Marseille, which I did. They said the BBC crew had been in Oryol, Rostov-on-Don, Tula and also in Moscow where they chatted with fans of different football clubs."
When asked whether he had any second thoughts about that interview, Vasily said he understood the meaning of some of the questions they asked and answered accordingly and "with a sense of humor."
"The interview was rather sarcastic from my side, to be honest."
"Speaking about what happened in Marseille I said that it was the fault of the [game's] organizers and the French police. Why blame it all on the Russian fans? There were some 50,000 Anglo-Saxon hoodlums descending on the city. They behaved like they were kings of the world. You can't insult a country, its anthem and its leader. You can't behave like pigs," Vasily said.
"They also asked me about the [2018 World Cup] in Russia and what awaited the British fans there. I said that Russia is a guest-loving country and people who come with good intentions are always welcome."
He added that he had never mentioned anything like "a festival of violence" allegedly awaiting British fans during next year's World Cup.
"I have five kids and I would never say anything like this. I don't need any problems, you know especially with all these preventive measures now being taken by the authorities to rule out any violent outbursts in 2018."
Vasily said he was surprised to be presented as the mastermind of last year's brawls in Marseille.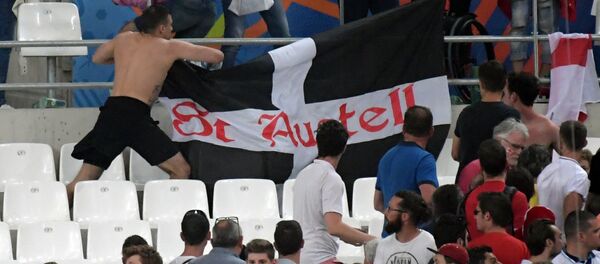 "I'm already getting that feeling of déjà vu, you know, because I had the very same thing happening to me in the summer. On June 20, my pregnant wife and I were at our country house watching TV. Then, all of a sudden, they said I was actually in Marseilles supervising the clashes of our fans. I  wouldn't even be surprised if they make me a bogeyman to scare little kids in England," Vasily said.
When asked what he thought was the main idea behind the BBC documentary, he said that Alex Stockley, whom he spoke to via an interpreter, seemed so sincere and friendly that he simply wanted to tell him about the fan firms against the backdrop of the events in Marseille.
"I have no idea what other characters in that film said, but I'm surprised about how they misinterpreted me. I haven't seen the film yet, only the article in The Guardian, which I call a smear campaign. What angered me most, however, was the part about the 'festival of violence' which is a barefaced lie."
Vasily Stepanov blamed Russia's Western "partners" for trying to portray the country as some kind of a monster.
"These people are raising hell about doping and Marseille where KGB agents beat up poor British grannies. This is all part of a Russophobic campaign aimed against our country. Mainstream media do their masters' bidding," Vasily Stepanov emphasized.
Never miss a story again — sign up to our Telegram channel and we'll keep you up to speed!