MOSCOW (Sputnik) — On Wednesday, Moscow hosted a pan-Kurdish event, titled "The struggle for influence in the Middle East: the current state and possible outcomes," as result of which, a joint declaration was issued.
"[Calls on Russia to] consider deepening and strengthening Russian-Kurdish relations, consider the possibility for the Foreign Ministry… to defend the legitimization of Northern Syria–Rojava Federation's status in the international arena as a political and territorial entity in the new Syrian constitution," the declaration said, as read out by Farkhat Patiev, a member of the National Congress of Kurdistan.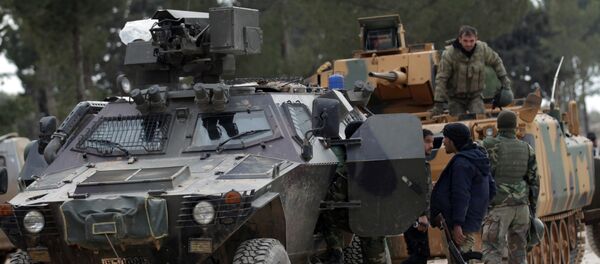 16 February 2017, 07:24 GMT
Patiev stressed that without solving the Kurdish issue, the settlement of the crises in the Middle East would be far from being reached. He also said that Kurds had analyzed the
draft Syrian constitution proposed by Russia
during Astana talks on January 23-24.
The draft constitution removes the word "Arab" from the official name of the country, while "Government agencies and organizations of the Kurdish cultural autonomy shall use Arabic and Kurdish equally."
The Syrian Kurds say they are a part of Syrian population and do not strive for independence, yet have previously called for more autonomy.
In March 2016, Rojava's administration declared autonomy. The Syrian government responded by saying that the Kurds' unilateral decision had no legal power.