MOSCOW (Sputnik) — The pranksters posed as Ukrainian Prime Minister Volodymyr Groysman and Andriy Parubiy, the speaker of Ukraine's parliament, while making hoax phone calls to US Senators Lindsey Graham, John McCain and Republican Majority leader Mitch McConnell, speaking about sanctions and cyberattacks.
Both topics have been making top news in the United States over recent months as new President Donald Trump promised to try easing tensions with Russia and promised to look into whether it was worth pursuing anti-Russian sanctions that were introduced at the onset of the Ukrainian conflict two years ago. Russia has been accused of helping Trump win the election by hacking his rival's servers and leaking compromising information.

15 February 2017, 22:40 GMT
Earlier this week, a YouTube channel run by the Russian pranksters posted a video of a conversation with US Congresswoman Maxine Waters, who earlier claimed that "Putin is continuing to advance into Korea" and
who now believed that Russia invaded an African river
. Earlier in February, Russia's Life news website published an audio of an alleged conversation between one of the prankers posing as Ukrainian President Petro Poroshenko and NATO Secretary General Jens Stoltenberg. NATO Spokesperson Oana Lungescu rebutted the claim saying the audio was fabricated and no phone call with Stoltenberg took place.
On Wednesday, Kuznetsov and Stolyarov told Sputnik that hoax phone calls were made to Graham, McCain and McConnell, promising to release the details later.
Following the incident, Kremlin Spokesman Dmitry Peskov said the Kremlin was not linked to the prank phone calls and appreciated the fact that nobody had come up with the idea of accusing Moscow of the tricks.
PUTIN 'PLANS CYBERATTACKS'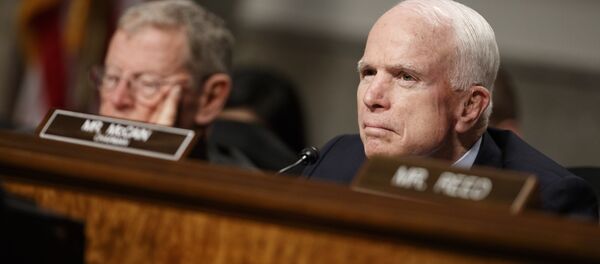 15 February 2017, 02:27 GMT
Stolyarov, who posed as Groysman, warned McCain that Russian President Vladimir Putin was personally preparing compromising materials on him which would contain allegations of the senator being a Russian spy ever since being recruited during his time as prisoner of war in Vietnam. The pranksters said the material would be published by RT.
"I thank you, Mr. Prime Minister, I will look forward to them revealing how I was brainwashed by our North Vietnamese friends… Maybe you could ask your ambassador to tell me more about that," McCain said.
In the prank call, Stolyarov also said that Putin had also ordered two Russian hackers, Aleksey Belan and Evgeniy Bogachev, both of whom were placed on an individual sanctions list near the end of Barack Obama's presidential term over allegedly taking part in cyberattacks against the United States, to now attack McCain servers and tap his calls.
"Thank you very much for that information and I will certainly be aware as to the content of my conversations as far as any national, security issues are concerned… We'll win this fight," the senator responded.
ANTI-RUSSIA SANCTIONS
The pair focused mainly on anti-Russian sanctions, repeatedly asking the senator whether Trump was really planning to lift them.
McCain responded by assuring that he was going to do everything possible to make sure the sanctions remain in place, but admitted he had no idea where Trump's administration was going on the issue.
"I have to be very frank with my friend, the prime minister, and that is that I do not know what the president is going to do… We will continue to advocate, including our Senate leader, Senator McConnell, for maintaining sanctions and increasing sanctions," McCain said, adding that any move by Trump to lift the sanctions would be countered with legislative action in Senate.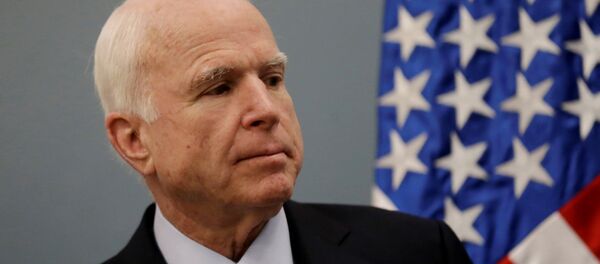 2 February 2017, 19:53 GMT
The senator added that Trump was unlikely to come around to the sanctions issue anytime soon, referring to Trump's late January phone call with Putin, after which sanctions were not mentioned.
McCain went on to assure the pranksters that US State Secretary Rex Tillerson, who is personally acquainted with Putin, would be careful to tiptoe around the issue due to his vulnerability to Senate disapproval despite being Putin's "friend."
Tillerson was confirmed in Senate early this month by a margin of 56 to 43, with a record number of senators opposing the presidential pick.
The pranksters then told McCain of Ukrainian plans to recapture Donetsk from eastern militias as early as this month. In turn, McCain said he had asked the president to supply arms to Kiev.
CONGRESS VS TRUMP
The pranksters also focused on the issues of sanctions and Trump's policies while calling McCain's ally Lindsey Graham.
Graham responded by assuring the fake prime minister and speaker that Trump could revoke Obama's sanctions but would not be able to do the same with sanctions passed by Congress after Crimea's reunification with Russia.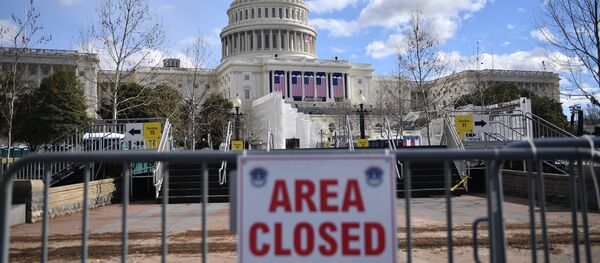 9 February 2017, 08:34 GMT
The senator said that continued US sanctions were supported by UK Prime Minister Theresa May, who recently met with Trump, as well as German Chancellor Angela Merkel.
In December, Graham and McCain were among four senators who called on Congress to launch an investigation into alleged Russian interference in the country's last presidential election. The two senators later said they planned push for stronger sanctions against Russia in the new Congress under Trump.
Kuznetsov told Sputnik that Mitch McConnell expressed doubts over the success of the initiative. The Senate will, however, continue to work on measures to obstruct any potential moves by Trump to get rid of the sanctions.