WASHINGTON (Sputnik) — Trump said he is negotiating with defense contractor Lockheed Martin, which is developing the F-35 jet, to cut back billions of dollars from the cost of the program.
"It was out of control and now it's very much in control," Trump told the White House press pool following his remarks at a Boeing event in the US state of South Carolina.
If the cost of the F-35 program does not drop, Trump noted, the orders for the aircraft may be replaced with Boeing's F-18 Super Hornet fighter jet, which now has a stealth component.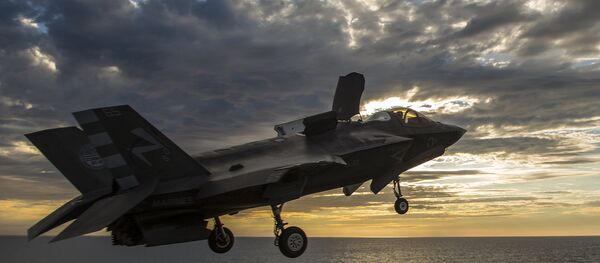 17 February 2017, 00:38 GMT
On Thursday, US Air Force Deputy Chief of Staff for Strategic Plans and Requirements Maj. Gen. Jerry Harris said that the US Air Force has worked long time on 
developing a sixth generation combat aircraft to replace the F-35 jet
once it reaches the end of its service in 2070.
The F-35 program has Navy, Air Force and Marine variants of the fifth generation aircraft. The program is the most expensive weapon system in the history of the Defense Department.