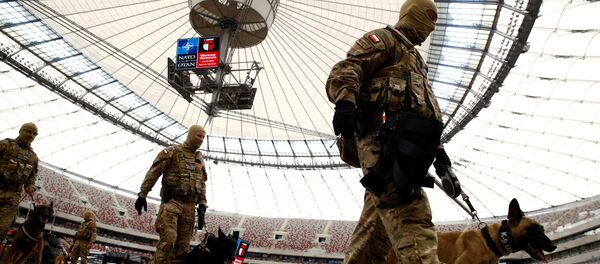 24 January 2017, 14:35 GMT
According to the
report
, US military will head toward Europe at the end of March and will be deployed in the town of Orzysz in the northeastern part of the country.
At the last summit of the military alliance in Warsaw, NATO decided to deploy multinational battalions in Latvia, Lithuania, Estonia and Poland as part of its mission to deter alleged Russian aggression. The battalions are expected to be deployed on a rotating basis, with Canada stationing its troops in Latvia, Germany, Lithuania, Great Britain, Estonia and the United States stationing its troops in Poland.
"NATO is pursuing a double strategy against Russia. On the one hand, it wants to show off its military strength by means of the deployment of troops and military maneuvers on the territory of its eastern allies. On the other hand, it does not want to break the dialogue with Moscow," the magazine wrote.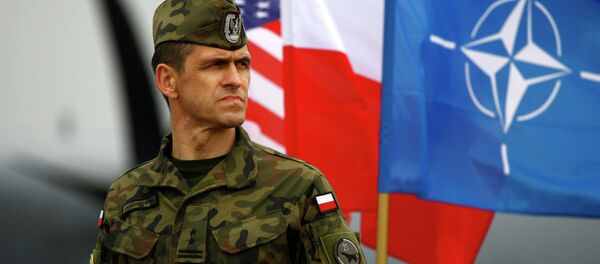 At the same time, NATO's initiative to deploy its forces near Russia's borders has been repeatedly criticized by a number of European experts and politicians. Commenting on the recent movements of US tanks in Europe, Brandenburg's leader and the SPD party member Dietmar Woidke told Sputnik that "it wouldn't help us if the tanks will drive back and forth."
The alliance has been increasing its military presence in the Eastern Europe since 2014, using vulnerability to alleged Russian aggression as a pretext. Russia has repeatedly voiced its protest against the increased number of NATO troops near its borders saying that it will undermine regional stability and result in a new arms race.
"The alliance is known to have deployed hundreds of military bases along the rather big perimeter around Russia. The real increase in the number of NATO troops in countries neighboring Russia through permanent rotation of contingents as well as the lack of the constructive dialogue with us urge Russia to take serious retaliatory steps," Russia's Ambassador to Lithuania Alexander Udaltsov said on Friday.
In his turn, Kremlin spokesman Dmitry Peskov said Tuesday that Russia will do everything possible to rightfully protect itself from NATO expansion.
"Russia is doing all that is necessary to protect itself against the backdrop of NATO's expansion toward its borders. NATO is indeed an aggressive bloc, that is why Russia is doing everything that is necessary for [its protection]," Peskov told reporters.