GENEVA (Sputnik) — The Syrian opposition High Negotiations Committee (HNC) on Monday announced the final composition of the delegation that will participate in the forthcoming round of intra-Syria talks in Geneva, an HNC spokesman told Sputnik.
Salem Muslit confirmed that the list included 21 names, including Mohammed Alloush from the Jaysh Al-Islam group.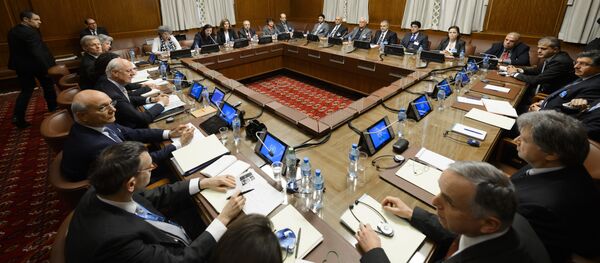 20 February 2017, 14:27 GMT
The list also includes representatives from the HNC, the National Coalition for Syrian Revolutionary and Opposition Forces from different armed groups of the Free Syrian Army, the delegates of Kurds and Turkmen, the representatives of Moscow and Cairo opposition platforms, as well as independent opposition figures.
On Thursday, another round of the UN-mediated intra-Syrian talks is expected to start in the Swiss city. The representatives of Syrian government and opposition are set to discuss a number of issues, including the issues of governance, new constitution and holding elections in the country.