Speaking to reporters as he traveled to Baghdad Monday, Mattis said that the US will probably maintain a military presence in the war-torn country for a long time, particularly while US troops continue to support Iraqi forces in their battle to oust Daesh terrorists from the country.  "I imagine we'll be in this fight for a while and we'll stand by each other," the secretary noted.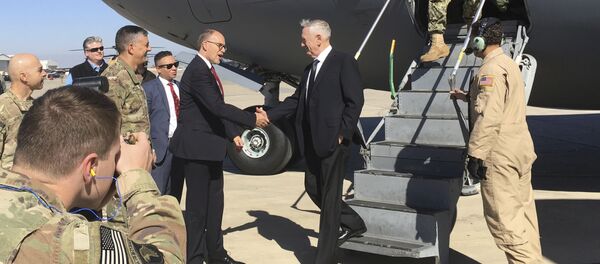 20 February 2017, 22:22 GMT
Commenting on the elephant in the room – President Trump's repeated statements on the campaign trail last year about taking and keeping Iraq's oil, Mattis assured Baghdad that "we're not in Iraq to seize anybody's oil." The US, he said, has "generally paid for our gas and oil all along, and I'm sure that we will continue to do that in the future."
Independent Iraq expert and Musings on Iraq author Joel Wing thinks that Mattis, a retired Marine Corps general who commanded several operations in Iraq going back to the 2003 US invasion, came to the country to try and smooth over relations between Washington and Baghdad, and to improve coordination in the war against Daesh, 
Speaking to Radio Sputnik on Tuesday, Wing recalled that "President Trump's remarks about taking Iraq's oil caused a lot of controversy in Iraq. Parliament was talking about expelling US forces and taking other actions. So I think when the defense secretary went to Iraq, he had to address that first thing."
Secondly, the journalist recalled, "President Trump has said he wants to [escalate] the war against the Islamic State [Daesh], so I think Defense Secretary Mattis was there to talk to Iraqi leaders and the Iraqi military to try to figure out what the United States can do, and what more help and assistance they can provide to try to end the war there."
© REUTERS / Zohra Bensemra
Members of the Iraqi rapid response forces fire a missile toward Islamic State militants during a battle in the south of Mosul, Iraq February 19, 2017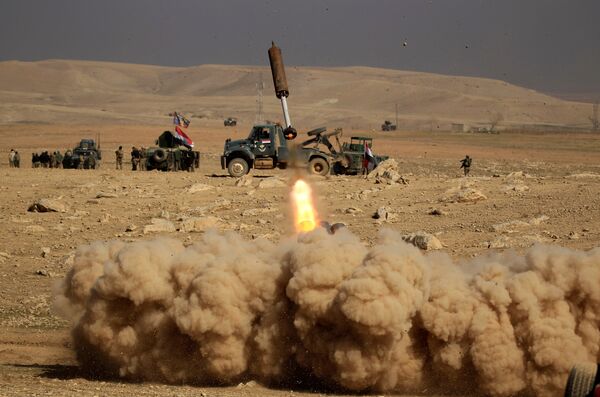 Members of the Iraqi rapid response forces fire a missile toward Islamic State militants during a battle in the south of Mosul, Iraq February 19, 2017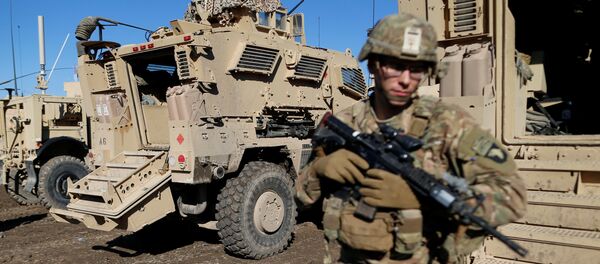 21 February 2017, 00:15 GMT
Trump's executive order on immigration, putting a temporarily halt on immigration from seven predominantly Muslim countries, including Iraq, also caused a lot of controversy in the Middle Eastern country, including demands in Iraq's parliament that Baghdad 'retaliate', Wing noted. "The Prime Minister, Haider al-Abadi tried to deal with that situation with his remarks that Iraq wasn't going to retaliate against the United States," the observer said, adding that the government needs the US for cooperation in the war against Daesh.
The timing of the visit was also critical, Wing said. "The new Mosul operation just started. They just started attacking the western half of the city. I think [Mattis] wanted to go there to show that America supports this effort – that they're going to provide as much aid and support as the Iraqi government wants – that they're an ally, and that [despite the president's recent comments], they're there to help, and not hurt the situation." 
"So again, this trip by the secretary of defense is there to try to smooth over relations, and to make sure that [the two countries remain] allies in the war against Islamic State," he added.
More broadly, Wing suggested that "it's going to take a while for [Trump and his team] to figure out how exactly to govern – what to say publically, what to tweet for example. I think it's a big learning process for them." Much of this stems from the fact that many administration officials have little governing experience, he said. The analyst noted that hopefully, Mattis' visit can be the first step in improving US-Iraqi relations. Trump's remarks, he explained, are often aimed at the domestic American audience, and are sometimes made without regard for the impact they have on other countries. "That's something American officials are going work on – what the president says, compared to what they're actually trying to do in Iraq. I think it'll be difficult at first to figure out what exactly the United States is up to."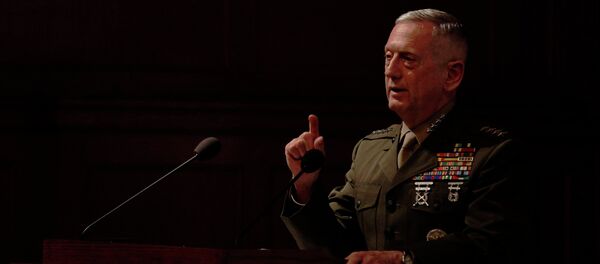 19 February 2017, 15:03 GMT
Ultimately, Wing noted that he sincerely hopes the Iraqi army has resolved the coordination and other problems it faced when it began the operation to liberate eastern Mosul. 
As for the battle for western Mosul, the observer stressed that "it'll be a hard battle at first, but what's happening in all of these different sieges, in western Mosul, Ramadi, Fallujah and other cities, it's a really, really tough and deadly fight at first, but once the defenses are broken, the Islamic State basically collapses. I'm not certain how long it's going to take, but eventually the Islamic State is going to lose."