MOSCOW (Sputnik) — Churkin passed away at his workplace in New York on Monday. He served as Russia's permanent representative to the UN and the Russian representative in the UN Security Council from April 2006. The diplomat would have turned 65 on Tuesday, February 21.
"The achievements of Vitaly Ivanovich cannot be overestimated… For more than 10 years, sometimes in extremely stressful circumstances, he firmly and consistently defended Russia's position on major international issues, which required tremendous effort and dedication. But no matter how difficult it was, he fulfilled the tasks at hand brilliantly and was never defeated," Putin said.
He highlighted Churkin's professionalism and noted that the envoy's sudden passing made "the pain of loss particularly acute." The president called Churkin a true patriot.
"Without exaggeration, [Churkin was] one of the most prominent diplomats. A professional of the highest level, a man of profound intellect and extraordinary energy, charisma and a rare sense of humor, he enjoyed the sincere respect of colleagues and a great reputation among foreign partners," Putin said.
Vitaly Ivanovich Churkin was born in Moscow in 1952. He graduated from the Moscow State Institute of International Relations in 1974, beginning his decades-long career at the Ministry of Foreign Affairs shortly.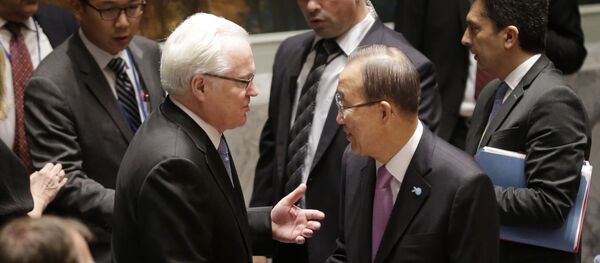 21 February 2017, 06:06 GMT
Ambassador Churkin served as Russia's Permanent Representative to the United Nations since 2006. Prior to this appointment, he was Ambassador at Large at the Ministry of Foreign Affairs of the Russian Federation (2003-2006), Ambassador to Canada (1998-2003), Ambassador to Belgium and Liaison Ambassador to NATO and WEU (1994-1998), Deputy Foreign Minister and Special Representative of the President of the Russian Federation to the talks on Former Yugoslavia (1992-1994), Director of the Information Department of the Ministry of Foreign Affairs of the USSR/Russian Federation (1990-1992).
Vitaly Churkin was awarded the Order For Merit to the Fatherland of IV degree in 2012.
He is survived by his wife and two children.