The nation's most elite fighting force is "prepared to confront whatever threat [is] posed to the Islamic Republic's establishment," Brig. Gen. Ali Akbar Pourjamshidian said, according to local TV. "The enemy should not be mistaken in its assessments, and it will receive a strong slap in the face if it does make such a mistake," said Gen. Mohammad Pakpour, chief of the Iran Revolutionary Guard infantry battalions, according to Sepahnews. 
Pakpour added that the message being sent by the military drills and subsequent aggressive rhetoric is meant for those powers embodying "world arrogance," presumably the US and Israel, primarily, "to not do anything stupid." This message comes in response to a remark made by ex-US-National Security Adviser Michael Flynn announcing an unprecedented measure to put Iran "on notice."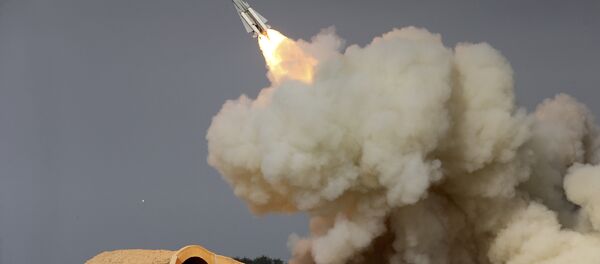 1 February 2017, 18:58 GMT
The Guard also tested a series of "smart and advanced" rockets and drones during military exercises in central and eastern Iran, according to the Tasnim news agency. Pakpour told local media outlets that the Guard tested rockets with a range greater than 100km (62 miles), in addition to the Fajr-3, Fajr-4, and Fajr-5 rockets, none of which is believed to travel further than 100km, Israel National News reported. 
Tensions with Israel also ticked up, with military analysts at Tasnim arguing that Iran's ally in Hezbollah could deploy Fateh 100 missiles from within Lebanon's borders to target an Israeli nuclear plant at Dimona. Hezbollah commander Sayyed Hassan Nasrallah noted last week that the armed group could could strike Dimona.
A University of Pennsylvania initiative, the Iran Media Program, has observed that a policy of 'rhetoric aggression' is a source of strength for "the country's conduct of a defensive foreign strategy," which represents "a strident security discourse of radical pragmatism projected onto the public square to achieve specific foreign policy gains outside the use of force." The use of media has been deployed for such gains for 40 years, the researchers added. In addition to being a "defensive mechanism" to defend Iran's image from negative portrayal by America, rhetorical aggression has been used as "an offensive one to project similarly toxic language toward Washington."