The aviation carried out 5,682 airstrikes on terrorist infrastructure. As a result, 40 training camps, 475 command posts, 45 ammunition plants were destroyed, and 3,119 militants eliminated.
"The Special Operations Forces of the Special Purpose Military Units have demonstrated their high efficiency. They played a key role in the elimination of terrorists and destroying critical enemy targets and adjusting our aircraft strikes," Shoigu said at the lower house of Russian parliament's government hour.
Since 2011, Syria has been engulfed in a civil war, with government forces fighting against numerous opposition and terrorist groups, including al-Nusra Front and Daesh, banned in a range of countries, including Russia.
A ceasefire brokered by Russia and Turkey late last year has practically put an end to Syria's nearly six-year civil war, Sergei Shoigu said.
"The collapse of the Syrian state has been prevented, the civil war was virtually stopped," Shoigu stated.
Moscow has been conducting a counter-terrorist campaign in Syria since September 30, 2015, at President Bashar Assad's request.
​Russian President Vladimir Putin announced in December that the Syrian government and armed opposition groups had reached an agreement on a nationwide ceasefire in Syria and on readiness to start peace talks.
© Photo : Ministry of defence of the Russian Federation /
 / Go to the mediabank
Military engineers of the Russian Army's international counter-mine center are seen in an Aleppo street with children. File photo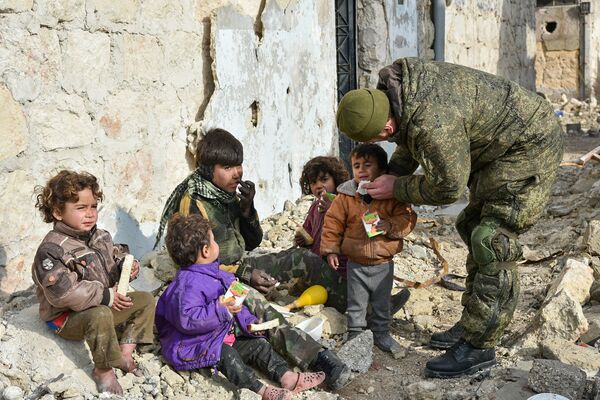 Military engineers of the Russian Army's international counter-mine center are seen in an Aleppo street with children. File photo
© Photo : Ministry of defence of the Russian Federation /
/