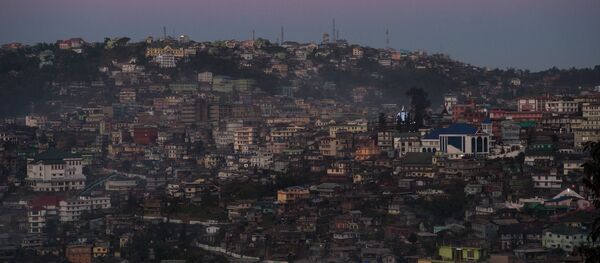 3 February 2017, 14:14 GMT
New Delhi (Sputnik)
–
In a bid to balance China in its backyard, India has decided to make huge investment in oil and gas sector of Myanmar. During Dharmendra Pradhan's visit to Myanmar, first Indian petroleum minister visit to Myanmar in last 12 years, Delhi has conveyed its interest to sell petroleum products like LPG, wax, petrochemicals, etc. Demand for diesel and gasoline in Myanmar is estimated to grow at an average annual rate of 6 per cent till 2026. India wants to integrate the Indian Natural Gas grid with Myanmar for developing their cities through City Gas Distribution network and also in the area of sourcing LNG. Myanmar's Energy Minister U Pin Zin Tun has invited India to invest in all streams of Oil and Gas.
"The interest of Indian Upstream companies in participating in the forthcoming bid round in Myanmar was conveyed to Myanmar side," reads a statement released by Indian Ministry of Petroleum and Natural Gas. Presently, ONGC Videsh Ltd (OVL) and GAIL have invested in gas producing blocks in Myanmar. OVL and Oil India Ltd have invested in exploratory blocks.
India has also offered Myanmar to refurbish and upgradation of refineries in Myanmar. The visit of Pradhan is a follow up of the visit of State Counsellor Aung San Suu Kyi of Myanmar to India in October, 2016.
Last December, ONGC Videsh said that it was in early talks with Russian company Gazprom for supply of natural gas through a complex swap involving Russia, China and Myanmar. "Myanmar is sending gas to China through an existing pipeline… if Russia can provide equivalent gas to China, then we can reverse the flow of gas from Myanmar to China and bring that gas to India," Narendra Verma had told reporters on the sidelines of India's Petrotech energy conference.

Never miss a story again — sign up to our Telegram channel and we'll keep you up to speed!