DAMASCUS (Sputnik) – The Syrian government hopes that the issue of Turkey's military presence in Syria will be handled by political means and will not result in direct confrontation, Syria's Minister for National Reconciliation Ali Haidar told Sputnik.
"It would be desirable to settle [the issue of Turkish military presence] in its early stage by political means, without letting it evolve into direct military confrontation," the minister said.
Haidar added that Ankara is creating preconditions for a conflict situation by its military presence in Syria.
"Our stance on the presence of Turkish military forces has not changed. This is the violation of the sovereignty and occupation of Syria," the minister said.
Haidar also posed the question whether it would be possible for Russia to prevent the situation from growing into military confrontation and persuade Turkey to give up the idea of continuing military presence in Syria for a long-term period.
On Friday, local media reported that the Syrian Foreign Ministry sent letters to UN secretary general and UN Security Council's chairman, urging to exert influence on Ankara to put an end to continued Turkish aggression against Syrian sovereignty and its territorial integrity.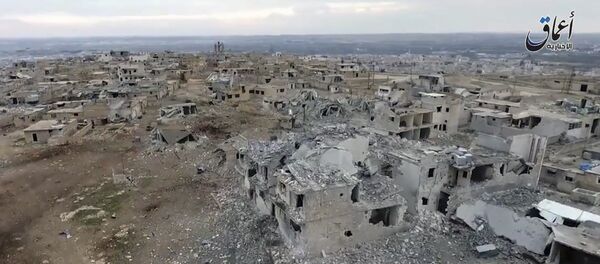 21 February 2017, 13:01 GMT
On August 24, the
Turkish army launched Operation Euphrates Shield
against militants of the Daesh group, which is outlawed in Russia and many other countries. Since then
the Turkish-led forces have driven Daesh from a number of settlements in northern Syria. The Turkish forces, with assistance from Syrian opposition fighters,
occupied the city of Jarablus
in northern Syria and are currently conducting its offensive on al-Bab.
Turkish President Recep Tayyip Erdogan said that the aim of the operation is to clear the territory of 5,000 square kilometers (1,930 square miles) in Syria as part of the operation and create a safe zone for refugees. Al-Bab is located 30 kilometers (18.6 miles) south of the Turkish border.
The operation has been widely criticized both by the Syrian Kurds and Damascus, who have accused Ankara of violating Syria's territorial integrity.
On Friday, Chief of the Turkish General Staff Hulusi Akar called on the US-led international coalition to increase support of Ankara's Euphrates Shield Operation in northern Syria.
© REUTERS / Khalil Ashawi
Turkish forces and members of the Free Syrian Army are seen at the al Baza'a village on the outskirts of al-Bab town in Syria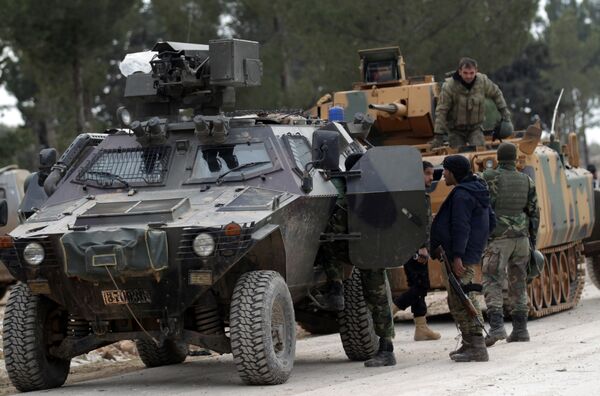 Turkish forces and members of the Free Syrian Army are seen at the al Baza'a village on the outskirts of al-Bab town in Syria