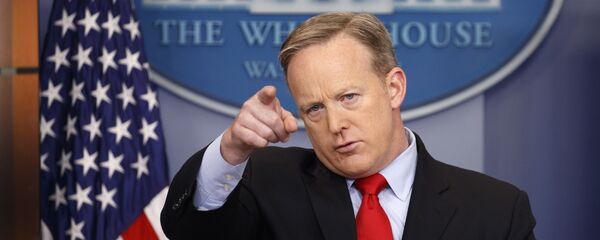 21 February 2017, 20:02 GMT
US officials keep sending contradictory "signals" about the US' future relationship with Russia. Radio Sputnik contributor Ilya Kharlamov attempted to delve into the messages which are being sent to Moscow.
The recent signal, he says, has come from White House spokesman Sean Spicer, who told reporters on Tuesday that the US would cooperate with Russia on matters like fighting terrorism if Washington is able to find common ground with Moscow.
"[President Trump] has made it very clear that if he can get a deal with Russia, something that the last several administrations have tried to do, that he's going to do it. And if he can't, he won't.  But he is going to try. And I think his success as a businessman and negotiator should be seen as a positive sign for him to be able to do that," Spicer told reporters during his daily press briefing on February 21.
"But he understands that if he can find common ground on defeating ISIS (Daesh) and combating terrorism, growing the economy where we can find areas of economic interest, then we're going to do it. But that's where we're going to continue to work with Russia if we can. He'll get a deal. If he can't, he won't. But he's going to try. And I think where others have failed, he's going to make sure that he does everything possible to make sure that if it's in the interest of the United States he will get a deal," he added.
"The White House spokesman has put it quite flowery: Trump will try, but if he fails, then he fails. Nothing can be done, then, very convenient. Such an approach causes cautious optimism and offers very vague hope," Kharlamov writes in his article for RIA Novosti.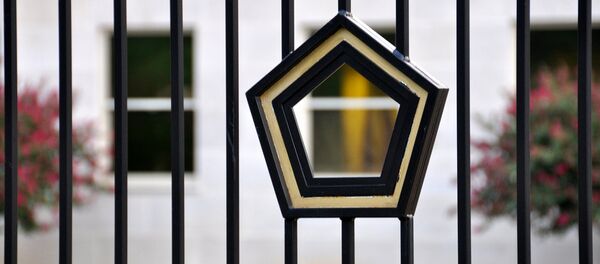 17 February 2017, 14:02 GMT
"It's time for the White House to make up its mind about how to cooperate with the Kremlin. There is too much of a haze around this issue," he says.
Kharlamov also recalls Trump's recent critical remarks, unlike his electoral rhetoric, about Russia's reunification with Crimea back in 2014. On the one hand, the new president says that excessive toughness with Moscow will hardly benefit the mutual relations, however on the other hand, he claimed to pursue a harder line towards Russia than did the previous administration.
Some members of his new team, the author says, have  fueled the flame, he says, referring to the remarks of Pentagon Chief James Mattis during his meeting at NATO in Brussels where he promised to talk to Moscow "from a position of strength."
Or to the remarks of Vice President Mike Pence who said at the recent Munich Security Conference that it is Russia who is bearing responsibility for the implementation of Minsk accords.
Or to the remarks of State Secretary Rex Tillserson who ruled out the lifting of anti-Russian sanctions.
"Hence, there is absolutely no certainty about how the US is going to build up its strategy towards the relationship with Russia," Kharlamov says.
Kharlamov continued by saying that besides, the Congressmen, who can't be suspected of any sympathy towards Moscow, are super active and very eager to seize the initiative in settling of Russia-US relations.
However, he further explains, the 45th US president needs quick and glamorous victories to be able to strengthen his authority which many still consider shaky and don't rule out his impeachment.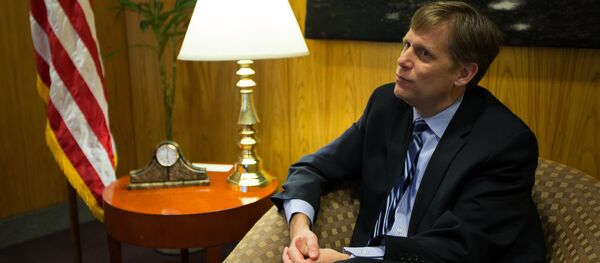 18 February 2017, 18:29 GMT
One of such victories might be the defeat of the Islamic State (ISIS/Daesh), which was one of the priorities of his electoral campaign. However, it can't be done without Russia and it is admitted almost by everyone.
Thus, to be able to deliver on his own promises, partnership with Moscow is becoming one of the key political factors for Trump, Kharlamov says. The only remaining question is the format of this partnership.
Russia is open to dialogue and cooperation with Washington. Russia's Defense Minister Sergei Shoigu has said that there no reason why the two countries can't launch a joint offensive against terrorists in Syrian Raqqa, for example, the author says. However Shoigu stressed that there are absolutely no prospects for a dialogue with Moscow from the "position of strength."
Meanwhile, Kharlamov noted, Trump's voters could also bring their share into forcing their president to choose sides as soon as possible.
According to the recent polls, he says, the opinion of ordinary Americans about Russia's President Putin has changed for the better and reached a record high since 2003.
The number of Americans who sympathize with Vladimir Putin has increased up to 32 percent, while only a couple of years ago it barely reached 12 percent.
The head of a democratic state can't but react to such changes in public opinion, no matter how powerful the state system is, Kharlamov said.
Never miss a story again — sign up to our Telegram channel and we'll keep you up to speed!