Earlier in the day, Anadolu news agency reported that the FSA fighters, backed by the Turkish forces, celebrated the liberation of the Syrian town of al-Bab from Daesh terrorist group that had seized the city in 2013.
Turkish Defense Minister Fikri Isik said Thursday that most of the city was under Syrian opposition's control after the fighters had entered the city's center.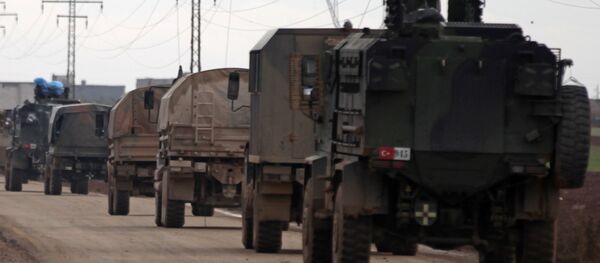 18 February 2017, 10:13 GMT
On Thursday, Daesh terrorists have
started to leave
the besieged northern Syrian city of al-Bab.
Turkish-backed forces made advances into the town earlier this month. The town's remaining jihadist-held areas thus came under siege as the Syrian army had approached al-Bab from the south, cutting off militant retreat routes.
Al-Bab is one of Daesh's last remaining strongholds near the Turkish border. Capturing the city is of strategic importance to Turkey in order to prevent the Syrian Kurds taking it and unifying their own territories.