MOSCOW (Sputnik) — Judicial police are looking into claims that Le Pen, a member of the EU parliament, gave fake parliamentary aide jobs to her chief of staff and bodyguard and paid for them with EU money.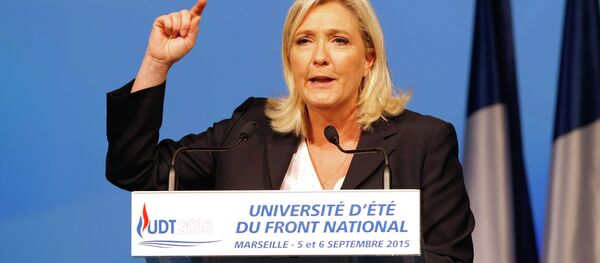 10 September 2015, 12:11 GMT
Le Pen's attorney Rodolphe Bosselut confirmed to Le Monde newspaper she wound not go to any police or judiciary convocation until a judiciary election this June.
He said last Wednesday's questioning was not mandatory and reiterated the lawmaker's position that judicial inquiries that might be launched after elections should not interfere with democratic process.
As an EU lawmaker, Marine Le Pen is protected from prosecution by parliamentary immunity, unlike her top aide Catherine Griset who was charged with breach of trust on Wednesday. Le Pen's bodyguard, Theirry Legier, was allowed to walk free.