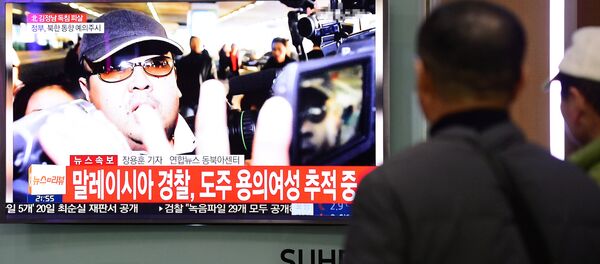 25 February 2017, 08:24 GMT
TOKYO (Sputnik) — According to the Kyodo news agency, the administration of President Donald Trump is currently analyzing the information about the February 13 suspected murder of Kim Jong Nam, known to disapprove Kim Jong Un's policies, in which a nerve agent called VX had been used.
South Korea's Foreign Ministry voiced its dismay on Friday over the use of what it described as a UN-banned chemical weapon in the assassination that took place at a Kuala Lumpur airport. Seoul said this was a blatant violation of the Chemical Weapons Convention. However, no evidence has been revealed that would prove Pyongyang's role in Kim Jong Nam's death.
North Korea was put on the US list of state sponsors of terrorism in 1987, after a blast on board a South Korean aircraft that resulted in the killing of 115 people and is believed to be organized by North Korean special services. In 2008, Pyongyang was removed from the list to facilitate progress in denuclearization talks.