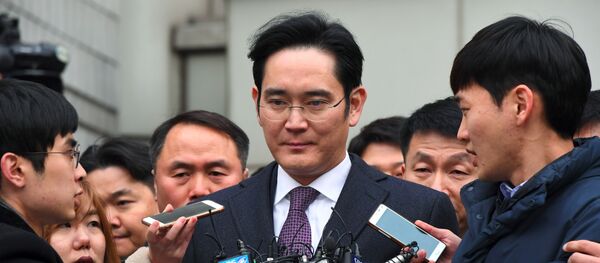 26 February 2017, 11:06 GMT
MOSCOW (Sputnik)
–
Samsung announced the resignation of Vice Chairman Choi Gee-sung and the future strategy office's President Chang Choong-ki, who faces an indictment over bribery and hiding assets overseas, the Yonhap news agency reported.
After the dismantling of the office comprising 200 officials from Samsung affiliates, each affiliate's board of directors will reshuffle the staff, the agency reported, citing Samsung officials.
Earlier in the day, South Korean special prosecutors, probing the corruption scandal that led to President Park Geun-hye's impeachment, said they would charge Samsung Vice Chairman Lee Jae-yong with bribery and embezzlement. According to the media outlet, the prosecutors said Lee was accused of allegedly bribing Park and her close friend Choi Soon-sil to promote his business plans. The size of the bribes is reported to be worth some $40 million.
Park and Choi reportedly pressed big corporations to make donations to Choi's foundations. Lee said Samsung made donations without seeking business profits.
Never miss a story again — sign up to our Telegram channel and we'll keep you up to speed!