The so-called Dieselgate scandal erupted when it emerged that Volkswagen had deliberately programed turbocharged direct injection diesel engines to activate certain emissions controls only during laboratory emissions testing.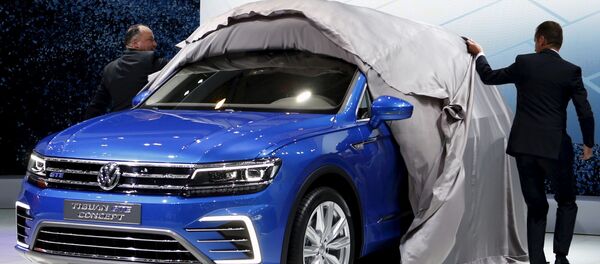 15 October 2016, 06:17 GMT
The effect was that emissions tests on those cars — under laboratory conditions — gave a lower reading for nitrogen oxides (NOx) emissions than were true for on-the-road driving conditions. The issue affected around eleven million cars worldwide built between 2009 and 2015. 
A European Parliament committee set up to investigate the scandal has now recommended the swift adoption of a new type-approval procedure and real-world emissions testing to ensure discrepancies NOx emissions measured in the laboratory and on the road are reduced.
​However, the report makes clear that both the EU Commission and member states should have acted on emission fraud sooner. The Greens-European Free Alliance (Greens-EFA) group criticized what it called the "serious shortcomings" of the European Commission and member states.
'Shocking Maladministration'
"This is a strong report that spares neither the Member States nor the European Commission in detailing their repeat failures. Both have been found guilty of shocking maladministration in allowing the Dieselgate scandal to happen," said Greens-EFA member of the inquiry committee Bas Eickhout.
"Having failed to monitor and enforce the ban on defeat devices, or to make sure vehicles were built to comply with emissions limits on the road and not just in the laboratory, Member States must now accept their responsibility for this scandal.
"We have also seen clear evidence that the Commission was repeatedly made aware of the likelihood of illegal activity, yet took no action to stop it. This amounts to maladministration in view of the Commission's obligations as guardian of the Treaties."
​"The many experts who came to our hearings made it clear that the very narrow focus on climate policy and specifically on reducing the greenhouse gas CO2 comes with a fundamental trade-off. That trade-off was higher emissions of the highly toxic pollutant NOx from diesel cars," said Jens Gieseke, from the European People's Party.
"We now have a crystal-clear understanding of the failures in the oversight on the car industry that made Dieselgate possible. The fraud could have been prevented if governments and European Commission did their job," said co-Rapporteur and Liberals and Democrats ALDE MEP Gerben-Jan Gerbrandy, who drafted the report together with Gieseke.