The ombudsman's decision to investigate the matter was brought about by a petition signed by staff members of the European Commission — an unprecedented act.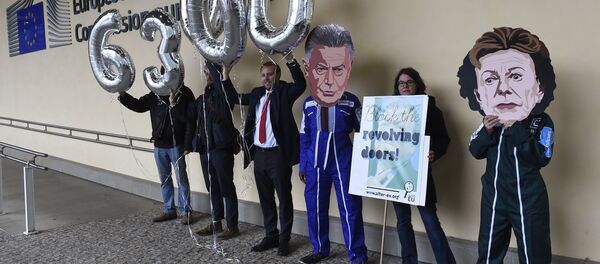 12 October 2016, 13:50 GMT
Barroso — who was European Commission president from 2004 to 2014 — was appointed non-executive chairman of Goldman Sachs International (GSI) only 20 months after leaving office. He will also be an adviser to Goldman Sachs.
In its announcement of Barroso's appointment, the US investment banks said: "His perspective, judgment and counsel will add great value to our GSI Board of Directors, Goldman Sachs, our shareholders and our people." However, critics said it would afford Barroso enormous lobbying power and was derided as another example of the "revolving door" of outgoing eurochiefs.
An anonymous group of employees of the EU institutions launched a petition which reached over 150,000 signatures. The employees said they were: "Outraged. Betrayed. Slammed in the face. And then very worried about the disastrous image for our institutions, our project, our European future. 
"After all the bad news about the future of Europe: the refugee and migrant crisis, the crisis unleashed by the Brexit referendum, the continuing economic crisis, and the crisis over the kind of Europe we want, this was the last straw," the petition said.
​Now, O'Reilly has launched a probe into the way the Commission handled the affair, having referred the issue to the Ad Hoc Ethical Committee (AHEC), but has taken no further action to change the code of conduct.
"I would therefore invite you to inform the complainant in your reply (i) of whether the matter was discussed by the College after the AHEC adopted its opinion; (ii) of whether the Commission has taken a reasoned decision in this case; and (iii) if no decision has been taken, why the Commission did not consider it necessary or appropriate to make a reasoned decision in this case," O'Reilly wrote in a letter to the Commission, opening the inquiry.
"If the Commission has, in fact, made a reasoned decision in this case, I would be grateful to receive a copy of that decision from the Commission," the letter said.