In his speech, the president made clear his "strong" support of the military alliance, which was "forged through the bonds of two World Wars that dethroned fascism."
Such comments will no doubt come as some relief to European leaders, given Trump's dedication to NATO has been repeatedly questioned ever since he launched his election campaign — he once referred to the bloc as "obsolete" and even suggested the US could withdraw from it entirely. His Defense Secretary James Mattis also previously threatened to cut US defense commitments in Europe.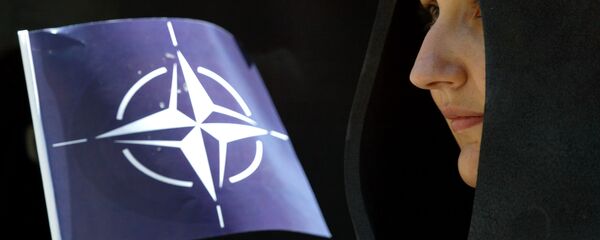 23 February 2017, 14:35 GMT
However, Trump was also unambiguous — NATO would only survive if its 28 members all paid their way.
"We expect our partners in NATO to take a direct and meaningful role in both strategic and military operations, and pay their fair share of the cost, and meet their financial obligations," the president added.
It is not the first time he has called on the bloc's member countries to do so. In a speech in Florida, he lamented that many of the countries the US protects "are very rich countries, but are not paying their bills."
In 2016, only the US, UK, Greece, Estonia and Poland met their 2 percent of GDP annual obligation — in 2017, that figure is on track to almost halve, with the US, Greece and Estonia, the only members left footing their expected bill, despite UK Defense Secretary Michael Fallon calling on NATO members to increase their defense spending in February.
There is arguably no greater violator of this obligation than Spain, which spends a mere 0.94 percent — only Belgium and Luxembourg spend less, despite Spain (the seventh largest NATO member by GDP and population) dwarfing these nations.
Michael Patrick Flanagan, a Republican Party politician from Chicago, Illinois, praised Trump's "urban directness," which he said was a rarity in US presidents.
"There's a certain toughness in the way he speaks —  there's no scalpel in his bag, he doesn't cut anything. He made abundantly clear that NATO must be ready to shoulder its needs in blood as well as treasure if need be. What he means is 'your militaries, which you have allowed to go moribund for years and years, you don't just have to make the spending contribution to NATO, but you have to build up your own forces as well.' That's what he was talking about — if countries want to be a part of NATO, they have to make their contribution and have to be ready to contribute internally, or we have to reappraise the terms of US involvement in the alliance," Michael Patrick Flanagan told Sputnik.
Mr. Flanagan went on to note that Trump was far from the first president to take a skeptical view of NATO.
In the 1950s, Eisenhower asked John Foster Dulles to do a "complete top down" of NATO, and "retool it completely."
"Eisenhower was terrified of NATO, he thought it would drag us into a military welfare state and the US would shoulder the burden for NATO countries. We've done just that, but a lot of presidents liked that model, thinking if they pay for it they get to run it, and NATO members had to follow the US' lead. Trump doesn't work from that place — he doesn't want to run NATO. He views countries as coequal partners. This is a shift in thinking — while previously we didn't care if a NATO member didn't pay their fair share, because it was 'our' alliance. Trump's saying 'we're going to run this together, and we're going to pay together,' and I think that's where we're going with NATO," Mr. Flanagan concluded.
Elsewhere in the speech, in what may have been a roundabout reference to the widely expected and hoped for alliance between the new US administration and Russia, Trump concluded his speech by saying the US was "willing to find new friends and forge new partnerships where shared interests align."
"We want peace, wherever peace can be found. America is friends today with former enemies," Trump concluded.