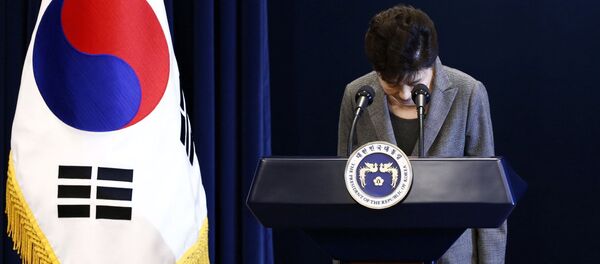 22 December 2016, 16:16 GMT
MOSCOW (Sputnik)
–
The head of the investigation team probing South Korean President Park Geun-hye and her associates' involvement in a corruption scheme expressed regret on Friday over failing to check and prove all the possible suspicions.
"I should have fulfilled my duty as the independent counsel by clarifying suspicions including those surrounding [ex-presidential secretary] Woo Byung-woo, SK and Lotte. I feel sorry to the nation about that," Park Young-soo told reporters, as quoted by the Yonhap news agency.
The heads of the SK and Lotte groups were questioned over corruption suspicions, but the companies did not face charges, as well as Woo despite his alleged links to Choi Soon-sil, Park's close associate accused of meddling in state affairs.
The 70-day investigation ended on February 28, identifying the president a criminal suspect amid bribery scandal with no charges due to her immunity from criminal indictment while in the presidential office. Additionally, a total of 30 people including Samsung head Lee Jae-yong will face charges over the case.
Park's impeachment in December 2016 followed a corruption scandal involving her close associate Choi, who did not hold any official post. Park is suspected of helping extort money from the corporations with Choi's assistance.
Never miss a story again — sign up to our Telegram channel and we'll keep you up to speed!