Under the proposed bill, the Pentagon can spend funds "for training, equipment, weapons of a defensive nature, logistics, and intelligence."
Washington ignores Kiev's persistent calls for the supply of offensive weapons for its "counterterrorism operation" in Donbass.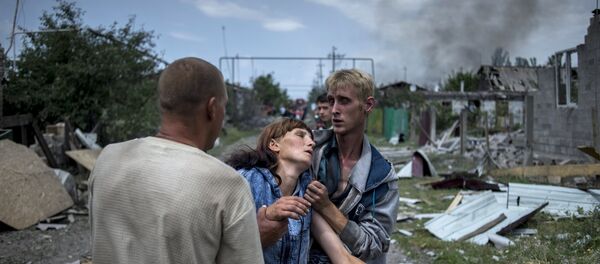 In April 2016 Washington's UN envoy Samantha Power said that a military solution to the crisis in eastern Ukraine would spell disaster for all.
"A lot more people would suffer," she warned.
As a result, Kiev's military had to make do with army pensioned off Army jeeps, night vision gear, bullet-proof jackets and military instructors.
Still, during the closing months of his presidency, Barack Obama decided to build up US military assistance to Ukraine.
"We will increase our military support for Ukraine," Obama said during the July 2015 NATO summit in Poland.
In January 2017, Ukrainian Foreign Minister Pavlo Klimkin stated the need for "more high-tech lethal defensive weapons" from the US.
If the bill proposed by the Committee on Appropriations receives Congressional approval, it would dash Kiev's hopes for a military solution to the conflict in Donbass.
Friends Indeed
The scope of the US assistance to Kiev pales in comparison with the billions of dollars Washington provides for Israel and its other allies worldwide.
In addition to the billions of dollars it allocates to Israel each year, Washington has spent $60 billion to rebuild the war-devastated infrastructure in Iraq and keeps supplying Baghdad with weapons even after the US military contingent left the country in 2011.
Following the Daesh invasion, the Pentagon ramped up its military supplies to Baghdad with 1,500 AGM-114 Hellfire missiles, as many  Humvee armed vehicles, 250 Caiman APC's and hundreds of M1A1M Abrams tanks and Stryker armored vehicles and dozens of F16 fighter jets.
Egypt is another major recipient of US military aid. In 2015 Barack Obama said he would ask Congress to allocate $1.3 billion in military supplies to Cairo.
Washington uses military assistance as a means of political influence to keep its military-political alliances in place.
New US administration changes tack
The Western sanctions against Russia imposed under pressure from Washington have already cost the US and its European allies an estimated $100 billion.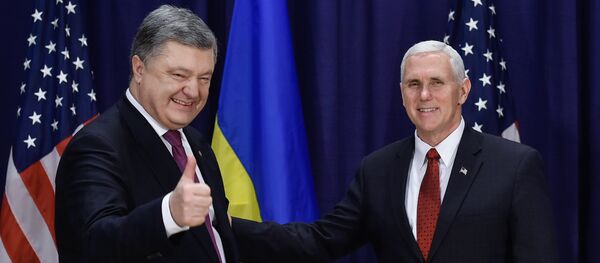 18 February 2017, 20:03 GMT
Realizing the dangerous consequence serious Western military support to Kiev could lead to, especially in view of the political instability in Ukraine and the trigger-happy rhetoric used by many of its politicians, President Donald Trump is backing off from the "shared values" principle underlying the previous administration's support for NATO's eastward expansion.
"Guided by this "shared values" principle, the Americans were moving east trying to get more and more countries embrace their ideology. The new administration does not share this strategy, especially when it comes to Ukraine, a country which is unable to control itself," political scientist Boris Mezhuyev told RT.
He added that any further Western support for Kiev is fraught with a protracted confrontation with Russia.
"In the long run, Ukraine will realize the downsides of its stupid and short-lived confrontation with Russia and will start gravitating back into Moscow's fold," he noted.
Moscow-based military expert Viktor Litovkin said that Washington never had any serious plans regarding Ukraine because "the Americans realize full well that Ukraine cannot be separated from Russia."
"The Americans see Ukraine just as a means of trolling Russia. They will keep it in a state of limbo without spending too much just to make sure it is alive," he emphasized.
Never miss a story again — sign up to our Telegram channel and we'll keep you up to speed!