MOSCO (Sputnik) — He added that the party's regional representatives were expected to visit Crimea to participate in the Yalta International Economic Forum (YIEF) set for April.
"Lega Nord was the first Western party, which visited Crimea. We are ready to go back as soon as possible, but as of today we are all plunged into the election campaign to prepare for elections in June. We will try but later," Salvini said during his one-day visit to Moscow.
The Lega Nord leader told Sputnik earlier that Italy's economy had lost at least 6 billion euros ($6.3 billion at the current exchange rates) since it joined the sanctions imposed on Russia in 2014.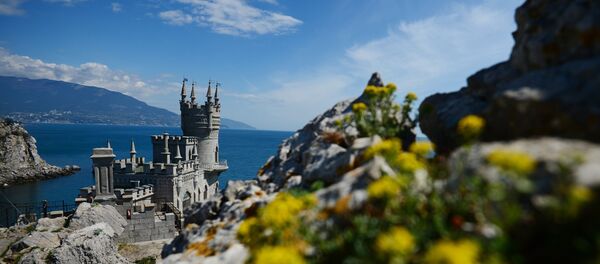 27 February 2017, 13:57 GMT
Over the summer, several Italian regional councils approved resolutions calling to condemn the EU policy on the issue of Crimea's reunification with Russia and lift the anti-Russia sanctions.
The relations between Russia and the European Union soured after the Crimean Peninsula seceded from Ukraine and reunified with Russia as more than 96 percent of local voters supported the move in a referendum in March 2014. The EU and the US have not recognized the legitimacy of the vote, imposing several rounds of sanctions on Russia.
Lega Nord is a northern Italian regionalist party which supports broader autonomy for the Padania region. The party is represented in the Italian parliament and has been a longtime ally of Silvio Berlusconi's Forza Italia. The party also supports better relations with Russia and has called for Italy to lift EU anti-Russian sanctions.