MOSCOW (Sputnik) — The agreement was signed earlier in the day in Moscow by Lega Nord Federal Secretary Matteo Salvini, who came to Moscow on a one-day visit, and Zheleznyak.
"An agreement, which was signed today, will serve as a basis for cooperation between us and Lega Nord on the issues such as security, preservation of traditional values, the future economic cooperation between Italy and Russia," Zheleznyak said.
He added that the parties had plans to discuss problems of youth in two countries, employment issues, illegal migration and drug trafficking.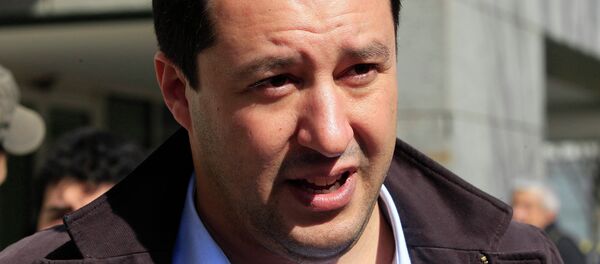 "In these areas Russia has unique experience and we are ready to share it," he said.
The United Russia's representative said the Italian colleagues asked to prepare a meeting of the two parties' youth branches in the near future.
Lega Nord is a northern Italian regionalist party, which is represented in the Italian parliament and has been a longtime ally of Silvio Berlusconi's Forza Italia. The party supports better ties with Russia and has called for Italy to lift EU sanctions against Russian imposed over the Ukrainian conflict.
Moreover, Zheleznyak said that the United Russia party is ready to sign a cooperation agreement with another Italian party.
"We are ready to sign agreements with all Italian parties. We are familiar with Five Stars and are in active dialogue with its representatives, but the signing of the cooperation agreement between us will be possible only after this party is ready for it, we are ready," Zheleznyak said.
He underlined that the United Russia had already signed more than 40 cooperation agreements with other parties across the globe, including those from Europe.
The M5S was established in 2009 by comedian Beppe Grillo and web-strategist Gianroberto Casaleggio. It became the second voted party at the 2013 general election and is estimated to have chances of scoring big in the upcoming elections in the country after part of Democrats broke away from the ruling Democratic Party.