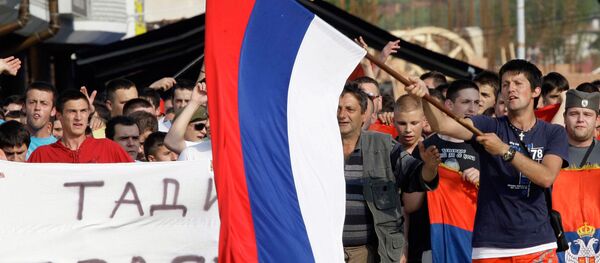 BELGRADE (Sputnik) — Bosnia's Serb-dominated federal region of Republika Srpska is under EU pressure to introduce sanctions against Russia, its President Milorad Dodik told Sputnik on Monday.
"We are under pressure but we refuse to introduce sanctions. And [Russian Foreign] Minister Sergey Lavrov said that he was grateful for Republika Srpska's tough stance, as well as that of Serbia, which is under pressure, and the Serbian Prime Minister Aleksandar Vucic, who has made it clear that he will not impose sanctions," Dodik said.
The pressure to impose sanctions on Russia are stepped up every time the European Union renews its own set of anti-Russian sanctions, he added.
The comment came after a visit by Dodik to Moscow earlier this month, during which he held a meeting with Lavrov.
The Bosnian Serb leader stated that he observed various positive changes that took place in Russia compared to the situation in 2014, when the Western sanctions were first imposed.
"Several years ago, just a few weeks after the sanctions were introduced, I visited Russia and felt an overall depressive mood, but now I see stabilization… The sanctions have, of course, harmed Russia, but have also uplifted confidence in being able to manage everything," he said, drawing attention to Russia's successful import substitution program and the recent economic recovery.
In 2014, Brussels and Washington imposed a series of sanctions on Russia claiming that Moscow was involved in the Ukrainian conflict which broke out that year. Russia has repeatedly refuted the allegations and introduced countermeasures banning a range of EU food imports. The Russian economy has since returned to growth after a recession.
The latest round of US anti-Russia sanctions was introduced in December 2016, with Washington claiming that Russia had allegedly influenced the US presidential elections, something that Moscow has repeatedly denied.