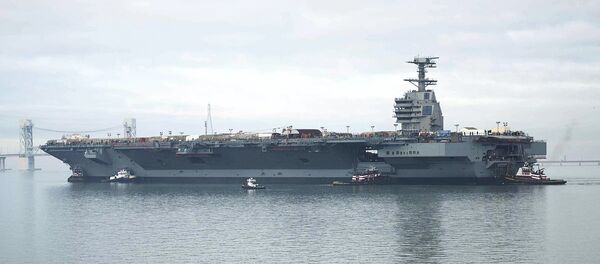 13 October 2016, 18:19 GMT
The tests can include the explosion of 5,000- and 10,000-pound underwater mines, which cause turbulent ocean conditions the Ford would likely experience during deployment, Pentagon officials said. 
The blasts provide data for Navy engineers and ship designers to analyze how the detonations impact the supercarrier's hull, systems, weapons, and other technologies, according to the naval service. 
"Testing of systems continues," US Navy spokesman William Couch told Scout Warrior. "We anticipate beginning sea trials in the early spring followed by ship delivery, pending the results of sea trials." In January, Sputnik reported that the supercarrier was "99 percent" complete and was slated for delivery in April. Nevertheless, promises to deliver the ship that are based on its announced level of completion can be misleading. In July 2016, for instance, the US Navy said the ship was 98-percent finished. 
The carrier has come in at 20 percent over budget, a source of criticism from Arizona Senator John McCain, Chairman of the Senate Armed Services Committee. No military or civilian officials involved with the Ford have faced accountability for cost overruns that have now reached an estimated $12.9 billion. 
But the Pentagon's Chief of Naval Operations, Admiral Jon Green, has touted the new Ford-class ship as a "technological marvel" that offers a more efficient use of resources. The Ford-class carriers will require fewer shipmen and sailors to operate, according to Green. The Ford-class ships have been rumored to be the floating platform for the most expensive weapons program in history, the F-35 joint strike fighter. The F-35C, a joint strike fighter variant designed to provide a utility tailored to Navy  requirements, features larger wings and a more "robust" landing gear to make the plane more suitable for lift-off and touchdown on aircraft carriers, according to the manufacturer. The F-35C's wings are also foldable, allowing better belowdecks storage on the ship.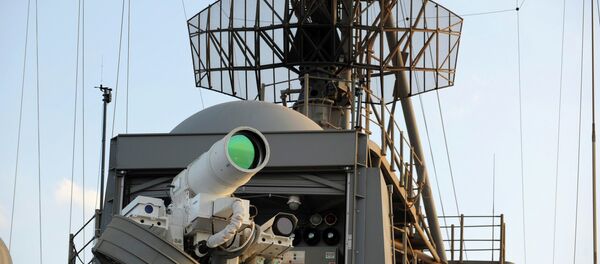 24 January 2017, 20:38 GMT
The USS Ford's ability to withstand shock trials will prove a massive hurdle for determining whether the ship will be ready for the Navy's acceptance trials, the final phase before delivery. Pending the results of the shock trials, "builder's sea trials," and, finally, a deployment-preparation phase called "post shakedown availability," the service will formally receive the USS Ford, according to Capt. Thurraya Kent, assistant secretary of the Navy for research, development and acquisition.