The company, BeeHex, intends to build "3D printing robots that prepare food faster than human hands." Their printers would be able to build, cook, and serve a pizza of any shape in just five minutes, then clean itself afterwards, a sort of Blaze Pizza for technophiles. 
While BeeHex intends to one day put their robots into shopping centers to enable anyone to enjoy a piping-hot high-tech pie, the motivation to create the technology comes from space travel. Food is a major concern for astronauts on lengthy voyages. NASA has estimated that some 7,000 pounds of freeze-dried food would be needed to feed a team on the long flight to Mars. ISS astronauts currently eat food that has been irradiated (to kill bacteria) and slathered in hot sauce (to give it flavor), not exactly a 5-star meal at Dorsia.
25 October 2016, 11:36 GMT
Freeze-dried food is low in nutritional value and taste, and NASA has sought alternatives. In 2013, they gave the Systems and Materials Research Consultancy of Austin, Texas, $125,000 to explore the viability of a 3D food compiler. 
If a car or a prosthetic leg can be 3D-printed, then so can a pizza, or any other food. The robot could make pizza out of powders that can be stored indefinitely, instead of using fresh tomatoes and dough that decay over time.
Anjan Contractor, formerly a senior mechanical engineer with Systems and Materials Research Consultancy, saw that the technology had potential outside of making food for hungry spacefarers. He co-founded BeeHex and presently serves as the company's CEO.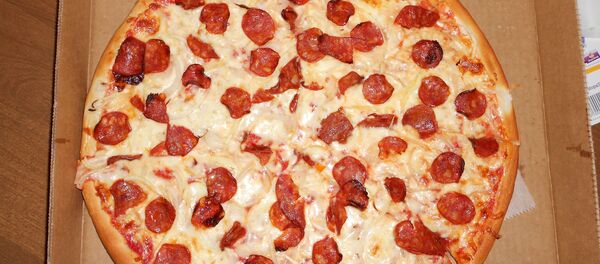 12 October 2016, 16:49 GMT
BeeHex will perform a demonstration of their robot at the International Pizza Expo (probably the most delicious industry showcase one could attend) on March 27-29 in Las Vegas. The technology is more than just a gimmick, according to Contractor. For instance, people with celiac disease can order gluten-free foods without having to worry about cross-contamination (as gluten can stick to cooking utensils and appliances.)
A long-term goal, according to the company, is to expand past pizza to let customers use an app to tailor whatever they might want to eat. "After pizza, this technology could be used for a wide range of foods," said Jim Grote, a BeeHex investor, to TechCrunch. "The company has mastered the technology around dough, which is a real challenge. So it would make sense to expand into other baked goods, potentially."