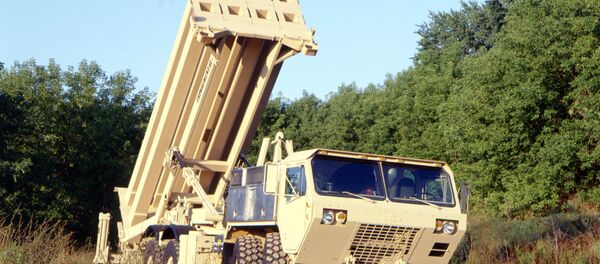 28 February 2017, 17:54 GMT
The United States has reportedly started to deploy its
Terminal High Altitude Area Defense
(THAAD) anti-ballistic missile system in South Korea.
The country's Defense ministry was quoted as saying that parts of the system were delivered on Monday to Osan Air Base in Pyeongtaek, 43 miles south of Seoul.
Seoul and Washington agreed to deploy the THAAD system, designed to intercept short, medium and intermediate ballistic missiles at the terminal incoming stage, in July 2016, amid South Korea's growing unease about Pyongyang's nuclear activity.
According to Chinese experts, given that Seoul's intention to deploy elements of the THAAD system on South Korean soil has already turned into concrete action, the Chinese side's negative reaction will continue to increase.
In an interview with Sputnik China, expert Lu Chao of the Liaoning Academy of Social Sciences, said that "the speedy deployment of the THAAD system comes against the background of the sharply negative reaction to these actions from Russia and China."
"The US and South Korea evidently would like to enter into a confrontation with China and thereby strengthen their military alliance," Lu Chao said.
He added that "it has already become obvious to everyone that THAAD deployment is actually already taking place" and that "this process is difficult to stop."
"Amid military exercises conducted by the US and South Korean sides, Seoul's determination to deploy THAAD units on South Korean soil is especially visible. South Korea attaches more importance to interaction with the US, and doesn't heed the sharp discontent of Russia or China," Lu pointed out.
"With the THAAD system already being deployed in South Korea, China's negative reaction will increase further. These steps by Seoul seriously damage Chinese-South Korean political ties, undermine diplomatic trust between the sides and lead to a situation where the Chinese begin to perceive South Korea as an adversary. Also, all this may ride roughshod over interaction between China and South Korea in terms of trade and economics," he said.
"If China takes a number of military countermeasures, confrontation between Beijing and Seoul may reach a serious level," Lu said, adding that China is closely watching the situation around the deployment of THAAD and that Beijing is aware of the serious consequences of this deployment."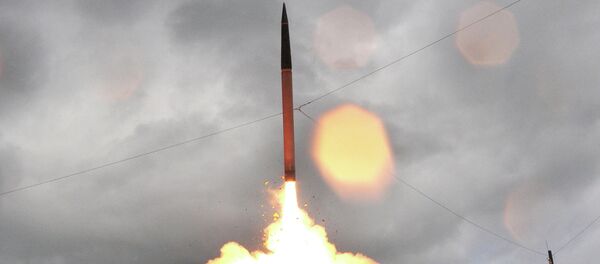 Meanwhile, a US Army representative in South Korea told Sputnik that the deployment of the THAAD system in South Korea is being carried out in accordance with earlier agreements and is not linked to the current aggravation of the situation in the region.
On Monday, media reported that North Korea had fired four ballistic missiles; three landed in Japan's exclusive economic zone. Later, White House spokesman Sean Spicer said that the deployment of THAAD missiles in South Korea was one of the retaliatory measures to defend against the North Korean threat.
"In the evening [Korean time] on March 6, parts of THAAD arrived at Osan Air Base, Gyeonggi province, and it has nothing to do with the current White House statement. It is just a phase of the process of missile defense systems deployment, an agreement on which had been reached between [South] Korea and the United States. There is no connection between these two events, theTHAAD components are being supplied in accordance with the agreements reached in July last year," the representative said.