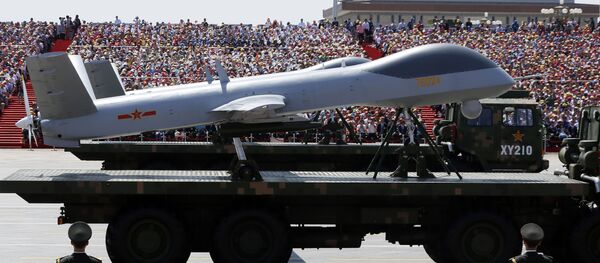 28 February 2017, 07:13 GMT
BEIJING (Sputnik)
–
The China Aerospace Science and Industry Corporation (CASIC), the country's main spacecraft, rocket and missile manufacturer, has started to develop stealth long-endurance and high-altitude unmanned vehicles, the China Daily newspaper reported, citing CASIC Vice President Wei Yiyin.
China's current five-year plan also envisages the development of high speed combat and reconnaissance drones and offer these on the global market, according to Wei.
"As military reforms are drastically changing armed forces around the world, drones have become an indispensable weapon in modern warfare because they can play an important role in high-resolution reconnaissance, long-distance precision strikes, anti-submarine operations and aerial combat," he added.
China has been also reportedly developing drones to fly in the stratosphere at altitudes of above 65,000 feet.
Never miss a story again — sign up to our Telegram channel and we'll keep you up to speed!