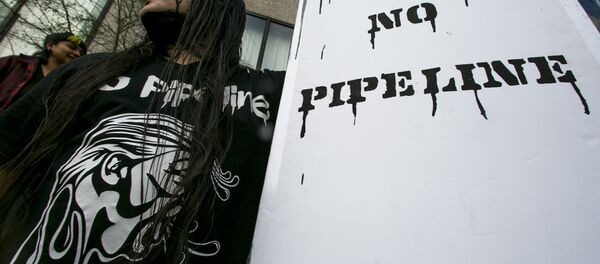 WASHINGTON (Sputnik) — On Friday, the Tribe led a protest against the construction of the pipeline with a march through Washington, DC that ended with a rally in front of the White House. The $3.7 billion Dakota Access pipeline is expected to begin operating next week.
"We're going to continue the battle no matter what, regardless of where the pipeline is and what's happening," Archambault said on Friday. "We're going to do whatever we can to make sure that the oil doesn't continue to flow if it starts to flow."
"We don't have a relationship with the Trump administration right now," Archambault noted. "They said they weren't going to decide on the presidential memo and the very next day they decided on it. We reached out a couple times and it was fruitless."
Archambault added that regardless of which presidential administration was in place, they have ignored the concerns of the indigenous people in favor of greed.
The tribe will continue to take legal action, specifically targeting the easement granted by the US Army Corps of Engineers.
First, the tribe will argue that a full environmental impact statement is required before any permit can be issued as required by law. Secondly, the tribe wants careful consideration of the tribe's treaties before a permit is issued by a government agency.
Native tribes oppose the pipeline's construction, claiming the pipeline threatened sacred territory and vital drinking water resources. The pipeline is intended to transport domestically produced light crude oil from the US state of North Dakota through the states of South Dakota and Iowa into Illinois.