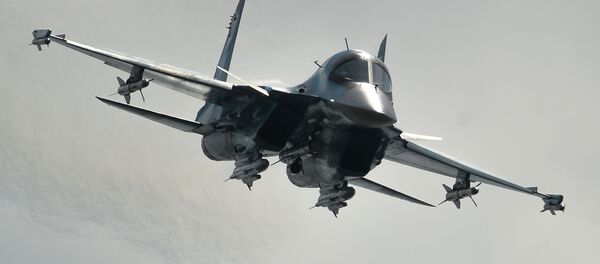 10 December 2016, 13:49 GMT
NOVOSIBIRSK (Sputnik) – Russia's Aerospace Forces will get 16 new Sukhoi Su-34 fighter-bombers in 2017, while the modernization of the aircraft will start in 2018, Russian Deputy Defense Minister Yuriy Borisov announced on Friday.
"This year, we expect additional deliveries of four aircraft and the total order volume for the current year is 16 Su-34s," Borisov said, adding that nine aircraft are already in the final stages of assembly.
According to the deputy defense minister, the Novosibirsk Aircraft Production Association (NAPO, or NAPA) has a long-term contract with the Russian Defense Ministry on the production of a total of 92 Su-34 strike fighters.
Borisov stressed that Su-34 aircraft have proved highly effective in the fight against terrorists in Syria.
"A program on the modernization of Su-34 is planned to start in 2018," the minister said.
On Thursday, Borisov announced that Russia's Aerospace Forces would receive 17 advanced Su-30SM fighter jets and 10 Yak-130 combat trainers in 2017.
© Sputnik
The Su-34 Strike Fighter

The Su-34 Strike Fighter