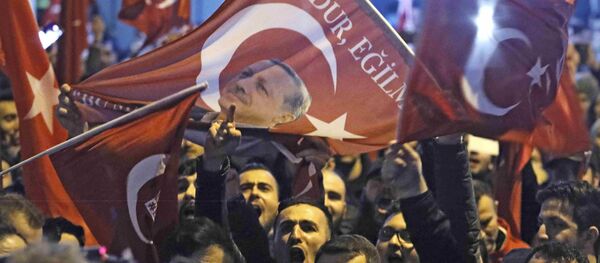 MOSCOW (Sputnik) — On Saturday, the Dutch authorities
barred the Turkish foreign minister from landing
, ahead of his planned
Turkish expat rally
at the embassy prior to the referendum on the constitutional changes. On the same day, the Turkish family and social affairs minister was
denied entry
to the Turkish consulate in Rotterdam and then deported to Germany. Both the Dutch and German authorities have called off the family minister's campaign meetings.
"The West arms all terrorists in the Middle East. Although the West still denies this fact, Ankara has documentary evidence of arms deliveries. There also are photos on which terrorists are wearing uniforms of these countries," Erdogan said, as quoted by the Anadolu news agency.
The incident with the ministers prompted Turkish protests near the Rotterdam consulate. Turkish Prime Minister Binali Yildirim threatened "harsh" retaliation measures, while Erdogan had promised to retaliate for the incident with the foreign minister.
Ankara has been seeking support from Turkish expats for a constitutional change that would increase the president's powers. The Turkish referendum on the constitutional amendment is scheduled for April 16.