The Russian strategic missile-carrying Yuri Dolgoruky submarine and the multipurpose Obninsk submarine held the exercise during combat training in the Arctic, the press service of the Northern Fleet said on Friday.
"Submarines' crews completed planned tasks of the combat training course at deep-water testing ranges in the Barents Sea. Torpedo firing on underwater targets was the most difficult and responsible stage of the joint exercises of the two ships. The submarines carried out [the drill] in a duel option."
Each submarine launched a torpedo without a combat unit. After the drill was completed, ammunition was picked up by a torpedo recovery vessel. Moreover, the Russian submarines practiced searching for and secretly tracking 'foreign' submarines and conducted evasion training using jamming countermeasures and cover targets, as well as combat maneuvering emphasizing offensive positioning.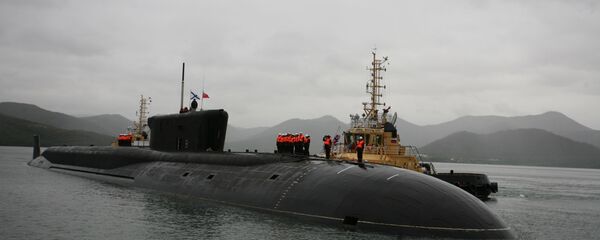 The Yuri Dolgoruky strategic submarine cruiser is armed with intercontinental Bulava ballistic missiles. It also has six 533 mm caliber torpedo tubes. The K-535 Yuri Dolgoruky is a fourth-generation submarine and the first in the Borei-class series. According to official data, there are currently two Borei-class submarines — the Yuri Dolgoruky and the Vladimir Monomakh — in service with the Northern Fleet.
By 2020, the Russian Navy plans to operate a total of eight submarines of this type. It has three Borei submarines in operation, including the Alexander Nevsky in service with the Pacific Fleet, and four more under construction, namely Emperor Alexander III, Knyaz Vladimir, Knyaz Oleg and Generalissimus Suvorov.
Borei-class nuclear-powered subs are to become the mainstay of the naval component of the country's strategic nuclear deterrent.
Earlier, a defense industry source told Sputnik that the tests by Russia's advanced deep-water homing torpedo Futlyar (Fizik-2) will wrap up this year and the Russian Navy is to introduce it into service in 2018. According to publicly available sources, Futlyar would be capable of reaching speeds of more than 60 knots and a depth of more than 540 yards and would be able to hit targets at a range of over 35 miles.
© Sputnik
Yury Dolgoruky Strategic Nuclear Submarine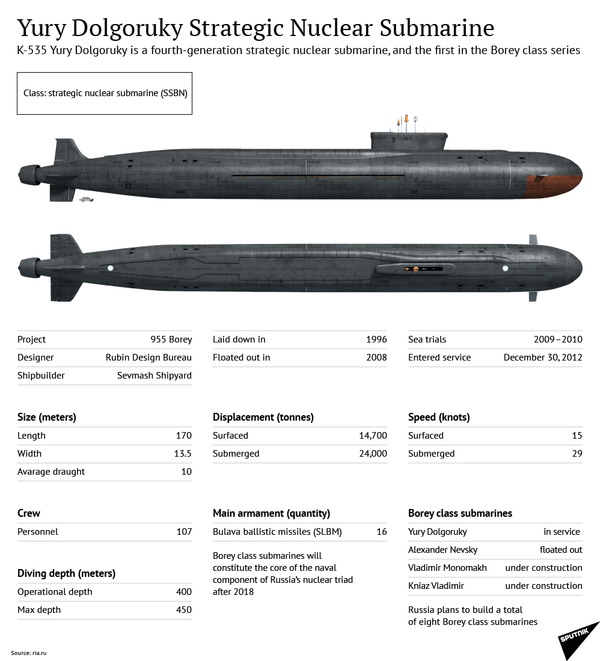 Yury Dolgoruky Strategic Nuclear Submarine