According to Kurtulmuş, Ankara had decided to halt all high-level political discussions with the Netherlands in an ongoing political spat.
"The Turkish Council of Ministers has decided to bar the Dutch ambassador from returning to Turkey," Daily Sabah quoted  Kurtulmuş as saying.
"We have decided not to allow Turkey-bound Dutch diplomatic flights," Kurtulmuş added.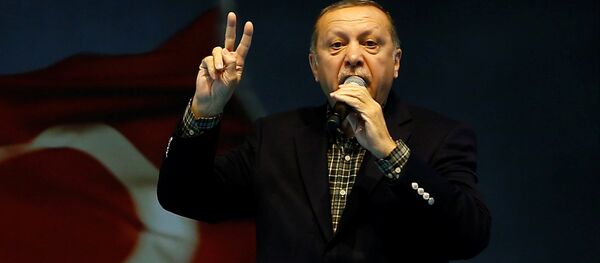 Turkish-EU relations are experiencing a noticeable slump amid several European countries' refusal to let Turkish officials organize demonstrations supporting the constitutional amendments that will be subject to the referendum scheduled for April 16 and, if adopted, will give more powers to country's President Recep Tayyip Erdogan.
On Saturday, the Dutch authorities refused landing for Turkish Foreign Minister Mevlut Cavusoglu, who was expected to meet with the Turkish expats in the Netherlands in the run up to mid-April's Turkish constitutional referendum on bolstering the president's powers.
On the same day, Turkish Family and Social Affairs Minister Fatma Betul Sayan Kaya was denied entry into the Turkish consulate in Rotterdam. She was declared an "undesirable alien" and then deported to Germany. Both Dutch and German authorities have called off the family minister's campaign meetings.
Ankara reacted furiously, promising reciprocal actions and sanctions against the Netherlands.