Asa Hutchinson, a Republican, was elected as the Governor of Arkansas in November 2015 on a "law and order" ticket and has been keen to resurrect the death penalty.
Those facing execution are Don Davis, 54, Bruce Ward, 70, Ledelle Lee, 51, Stacey Johnson, 48, Jack Jones, 52, Marcel Williams, 46, Kenneth Williams, 35, and Jason McGehee, 40. 
© Photo : Arkansas Department of Corrections
(Left to right) Don Davis, Marcell Williams, Jack Jones, Jason Mcgehee, Ledelle Lee, Stacey Johnson, Kenneth Williams, Bruce Ward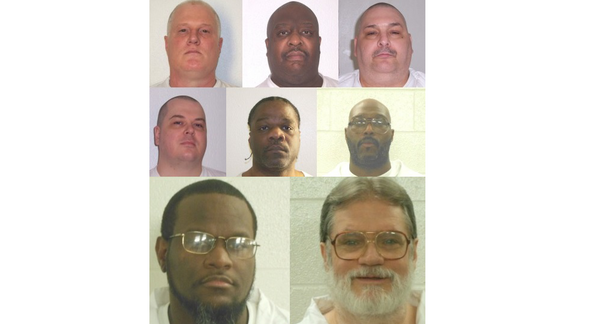 (Left to right) Don Davis, Marcell Williams, Jack Jones, Jason Mcgehee, Ledelle Lee, Stacey Johnson, Kenneth Williams, Bruce Ward
© Photo : Arkansas Department of Corrections
Davis and Ward are due to be executed on April 17, Lee and Johnson on April 20, Jones and Marcel Williams, 45, on April 24 and the remaining two on April 27.
The last person to be executed in Arkansas was Eric Nance, who was put to death in November 2005 for the murder and attempted rape of Julie Heath, 18, in 1993.
Nance was executed under a Republican Governor, Mike Huckabee. Two years later he was replaced by a Democrat, Mike Beebe, who did not attempt any executions.
The state's Attorney General Leslie Rutledge, also a Republican, said: "It is past time for the victims' families to see justice for the horrible murders of their loved ones." 
But critics have accused Hutchinson and Rutledge of an obscene rush to kill the Arkansas Eight.
"We are outraged by plans to carry out eight executions within the span of ten days in April. This planned mass execution is grotesque and unprecedented," the Arkansas Coalition to Abolish the Death Penalty said.
The Washington-based Death Penalty Information Center (DPIC) said it was the first time any state had attempted to kill so many prisoners in so short a period.
Only one state — Texas — has ever executed eight prisoners in a calendar month, back in 1997.
The DPIC's Robert Dunham — who was interviewed last year by Eugene Puryear about the failure to repeal the death penalty in several US states — said: "The hurried schedule appears to be an attempt to use the state's current supply of eight doses of midazolam, which will expire at the end of April.
"Arkansas does not currently have a supply of potassium chloride, the killing drug specified in its execution protocol but believes it can obtain supplies of that drug prior to the scheduled execution dates."
Midazolam is a controversial drug and no state has successfully executed two prisoners on the same day using it. 
In April 2014, Oklahoma tried but called off the second execution after the horrific death of Clayton Lockett.
Lockett had convulsions and reportedly tried to speak even after doctors declared him unconscious. It took him a presumably agonizing 40 minutes for him to die after he was injected with midazolam.
It was later claimed that Lockett's IV drip had not been properly placed in his vein, hence the complications.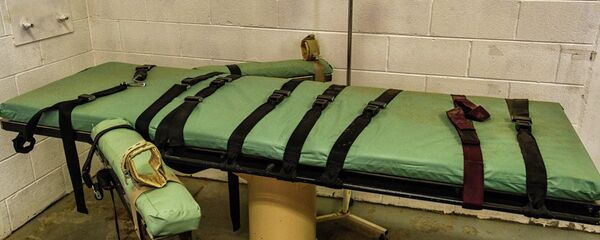 9 November 2016, 06:25 GMT
But in January 2015, Charles Warner told witnesses, as he was being injected with midazolam during his execution in Oklahoma, his body felt as if it was "on fire" moments after he was injected with the drug.
Later that month the US Supreme Court was asked to rule on whether the use of midazolam violated the Constitution's ban on "cruel and unusual punishment."
Midazolam, a sedative, is used as the first of three drugs in a lethal cocktail. 
The second drug, pancuronium bromide, paralyzes the inmate and the third, potassium chloride, brings on cardiac arrest and stops the heart. But Jeffrey Rosenzweig, an attorney for three of the inmates facing execution in Arkansas, said:
"Unless the prisoner is unconscious, then drugs two and three will cause pain — torturous punishment, in violation of the Eighth Amendment, and state guarantees against cruel and unusual punishment." 
In January 2017, Florida abandoned midazolam as the first drug in its three-drug protocol and replaced it with etomidate. Arkansas is persevering with midazolam, but its supply of potassium chloride expired in January and a prison spokesman said the state had not found a replacement. Hutchinson said he was confident the state would find a new supply.
He rejected the objections of death penalty campaigners and said: "My office is prepared to respond to any and all challenges that might occur between now and the execution dates. 
"I will do all I can to finally bring closure to the victims' families and to honor the verdicts and sentences imposed by juries decades ago," Hutchinson said.
Lethal injection is used in almost all US executions, but Utah still uses the firing squad and Virginia last year voted to bring back the electric chair.
The US and Japan are the only states in the developed world who retain the death penalty.
The death penalty has been abolished in most European states, including Russia.
China carries out around 1,000 executions every year, more than any country with the possible exception of North Korea.