Both aerial vehicles share at least one other characteristic, aside from their absurdly high cost and regular poor performance, as they are both manufactured by Lockheed Martin or subsidiary Sikorsky, which Lockheed acquired in 2015. The King Stallion CH-53K carries a current unit sticker-price of $95 million. The Pentagon's 10th bulk order of F-35s brought those jets into service for approximately $94.6 million apiece, Lt. Gen. Christopher Bogdan said at the Avalon Airshow in Australia. The Pentagon hopes to shave F-35 costs down to a mere $85 million per plane by 2020, Bogdan added.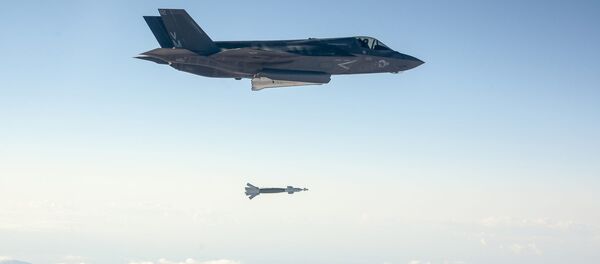 "There are indications," according to a DoDBuzz report, that the price of the King Stallion "could rise further."
In 2016, the Government Accountability Office issued a report detailing that the estimated cost of a single CH-53K was set to increase 14-percent higher than initial "baseline" estimates, Rep. Niki Tsongas of Massachusetts said. The Marine Corps told the representative that helicopter costs are projected to balloon a whopping 22 percent, to about $122 million each.
The Corps plans to "buy 200 of these aircraft, so that cost growth multiplied 200 times is a heck of a lot of money." A $27 million dollar higher cost estimate above the "baseline" figure of $95 million, multiplied by 200, amounts to approximately $5.4 billion in new costs, Sputnik calculated. 
"Even if there is no additional cost growth," Tsongas hypothesized, "it seems worth pointing out that $122 million per aircraft in 2006 dollars exceeds the [2017] cost of an F-35A aircraft for the Air Force by a significant margin."