KIEV (Sputnik) – The news comes after Poroshenko proposed earlier in the day to the National Security and Defense Council of Ukraine (NSDC) to completely halt transport connection with the self-proclaimed Donetsk and Luhansk people's republics until the enterprises in regions return to Ukraine's control. Later in the day, the NSDC made the corresponding decision.
"My position is that we must adopt a law that will ensure restoring the Ukrainian sovereignty in Donbas. That will be based on the Minsk agreements," Poroshenko told Ukrainian broadcasters.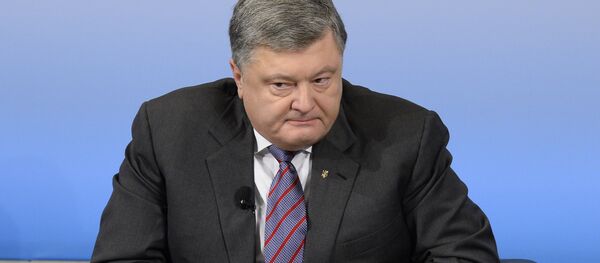 He did not go into details of the proposed law.
At the same time Poroshenko opposed the idea of adoption of a law recognizing Donbas as an occupied territory as, from his point of view, such a law would separate the split regions from Ukraine and ruin the Minsk process.
Ukraine launched a military operation in Donbas in April 2014, after local residents refused to recognize the new government in Kiev that they viewed as illegitimate. Despite the Minsk peace accords signed in February 2015, the sides continue to blame each other for ceasefire violations.