US drone campaigns have been repeatedly criticized for civilian casualties. Now there are concerns that the authorization of the CIA to carry out drone strikes against terrorists will lead to even more controversy.
Trump reportedly extended the authority of the agency shortly after his inauguration. The intelligence agency will now be able to use unmanned aircraft and target terrorists without permission from the Pentagon or the White House.
Under former US President Barack Obama, the Wall Street Journal noted, drone airstrikes were entirely the privilege of the Pentagon, while the Central Intelligence Agency had the right to use drones only for locating terrorists.
However, Laurie Calhoun doesn't agree with this point of view, saying that the practice of the CIA managing drone strikes against terrorists existed under the presidency of Barack Obama as well.
"There is a bit of a problem with the Wall Street Journal's report. The policy where the CIA manages the drone program was in fact Obama's policy for the most time of his administration. In fact Trump is just reinstating what was the US policy in 2013 and probably afterwards as well," Calhoun told Radio Sputnik.
Thus, concerns that Trump's decision will lead to transparency problems and turn the CIA into a covert military force, came a little too late. According to Calhoun, the "new" policy is actually "not Trump's innovation at all."
"The drone program was essentially covert for more than a decade," the expert said. "Thus, Trump is just reaffirming the right of the CIA to decide whom to kill and where," Calhoun stated.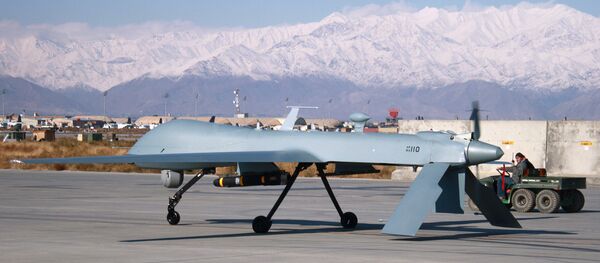 "In fact, when John Brennan, Obama's former advisor, was promoted to be the director of the CIA, I would say at that point the CIA became much more concerned with killing, than with gathering intelligence," she added.
At the same time, in contrast with Obama who was involved in the decision-making process on the drone strikes, Trump seems to be willing to delegate all the responsibility for making these decisions to the CIA, which, Calhoun believes, is "very unfortunate."
"It looks like Trump is allowing them to decide what proportion of civilian casualties is acceptable in these operations," she concluded.
On Monday, US President Donald Trump gave the CIA the green light to conduct drone strikes against suspected militants, according to the Wall Street Journal. The move is part of Trump's plan to enhance counterterrorism activities to destroy Daesh.