KIEV (Sputnik) — Ukrainian President Petro Poroshenko approved the decision of Ukraine's National Security and Defense Council on the termination of cargo transportation with Donbass areas not controlled by Kiev, according to a decree published Thursday.
"Implement the decision of the National Security and Defense Council of March 15, 2017 'On urgent additional measures to counter hybrid threats to Ukraine's national security'," the document said.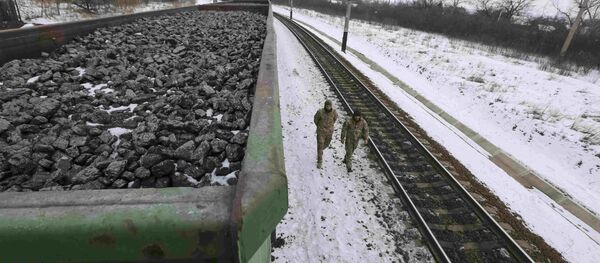 On Wednesday, Ukrainian President Petro Poroshenko proposed to the country's National Security and Defense Council (NSDC) to completely halt transport connection with the self-proclaimed Donetsk and Lugansk people's republics until the enterprises in regions return to Ukraine's control. Later in the day, the NSDC made the corresponding decision.

The Donbass conflict erupted in April 2014 as a local counter-reaction to the West-sponsored Maidan coup in Kiev that had toppled President
Viktor Yanukovych
in February. Residents of the Donetsk and Lugansk regions held independence referendums and proclaimed the People's Republics of Donetsk and Lugansk. Kiev has since been conducting a military operation, encountering stiff local resistance.
In February 2015, Kiev forces and Donbass independence supporters signed a peace agreement in the Belarusian capital of Minsk. The deal stipulates a full ceasefire, weapons withdrawal from the line of contact in Donbass, as well as constitutional reforms that would give a special status to the Donetsk and Lugansk People's Republics. Despite the agreement brokered by the Normandy Four states, the ceasefire regime is regularly violated, with both sides accusing each other of multiple breaches, undermining the terms of the accord.