MOSCOW (Sputnik) – Russia urges cessation of foreign interference in the internal affairs of Macedonia, Russia's Permanent Representative to the Organization for Security and Cooperation in Europe (OSCE) Alexander Lukashevich said Thursday.
"It is necessary to stop external interference in the internal affairs of Macedonia, respect Macedonian citizens' right to shape their own destiny based on the founding democratic principles," the text of Lukashevich's speech, published by the Russian Foreign Ministry, said.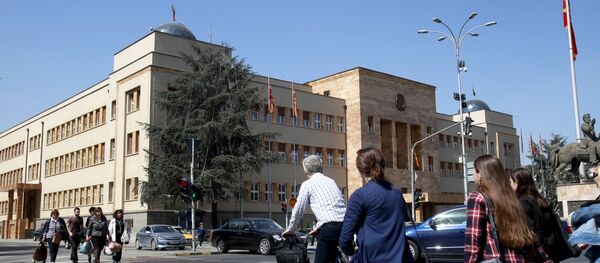 Russia calls on all Macedonian political powers, as well as EU and US mediators, to try to settle the domestic political situation via dialogue, Lukashevich added.
Lukashevich noted that contrary to the will of the Macedonian people, some powers, with the help of an Albanian minority, try to bring to power those politicians who lost the December parliamentary elections, and, thereby, make the political process inter-ethnic.
Lukashevich stressed that heightening inter-ethnic tensions in Macedonia was dangerous not only for the state but for the whole region.
On Tuesday, a group of US Senators led by Mike Lee called on Secretary of State Rex Tillerson to investigate reports that US missions abroad intervened in the domestic affairs of other countries, including Macedonia, supporting left-wing political groups.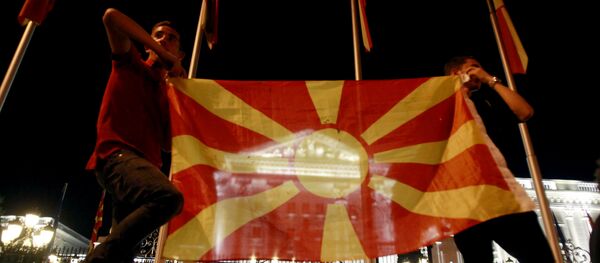 On March 3, the Russian Foreign Ministry described Macedonia's opposition as "openly backed by the European Union and the United States" and said that EU Commissioner Johannes Hahn, EU High Representative Federica Mogherini and NATO Secretary General Jens Stoltenberg exert "unprecedented pressure" on Macedonian President Gjorge Ivanov to make him give the prime minister's position to the opposition.
December's early elections in Macedonia resulted in the victory of the largest Democratic Party for Macedonian National Unity (VMRO-DPMNE), which got 51 seats, while 49 of the total of 120 seats were given to the main opposition party Social Democratic Union of Macedonia (SDSM). Since then, the parties have been attempting to form coalitions as neither of them has a sufficient number of seats in parliament to form the cabinet on their own.